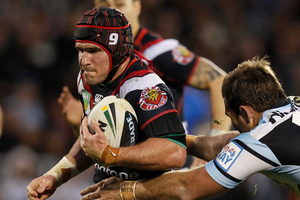 Nathan Friend is one of the most popular players at the Warriors and fans will see a bit more of him in the future with the hooker agreeing to stay at the club for another year.
It has been a difficult six weeks for the 32-year-old. He was initially told the club wouldn't be taking up their option for another season on him and that he was free to look elsewhere before they came back and said they might be able to offer him a new contract.
That was confirmed two weeks ago when they tabled a one-year extension but Friend asked for time to consider the offer given it was a reduction from his current deal.
He had a couple of offers to continue his career elsewhere but he has decided to stay in Auckland where his young family are well settled, the club confirming last night that he would stay for at least another year.
The Warriors have already signed Cronulla half Chad Townsend and are on the verge of adding England fullback Sam Tomkins, which will put serious pressure on the salary cap.
It had also been assumed Thomas Leuluai would move from five-eighth to hooker next season. That might still be the case, but Leuluai has been one of the Warriors' best players in recent weeks.
Friend is showing signs of wear and tear after 12 seasons in the NRL - he has nerve damage in his shoulder - but has played the last 17 games this season and is an 80-minute player.
He has also been a key player in the Warriors' resurgence and has averaged close to 47 tackles - he sits on 793 tackles for the season and could tip over 1000 tackles in the final four games - and 50m a game.
He's not the sort to break a game open (five offloads and no linebreaks this season) but he rarely makes mistakes (eight errors) or takes the wrong option.
"It's fantastic to have my future sorted out here with the Vodafone Warriors," said Friend.
"While we looked at other options, this is where I wanted to be all along. I couldn't be happier staying with this club."
Head coach Matthew Elliott said securing Friend was a significant boost. "He brings a lot to our club both on the field and off it," he said.
"From the outset our attitude was that we wanted to be able to keep Nathan and we've been able to achieve it. That's brilliant for him and for his family as well as us and also our members and fans.
"It's never easy at times when players are in contract discussions but it's a huge credit to Friendy the way he has handled this situation."
- APNZ