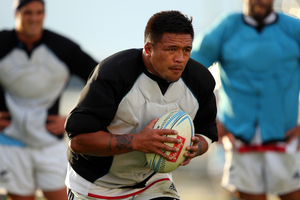 Keven Mealamu isn't ready to take up a full-time mentoring role just yet.
The veteran All Black hooker is full of praise for greenhorn Dane Coles but you get the feeling Mealamu still has a few miles left in his 34-year-old legs that have carried him through 104 test appearances.
With Mealamu and Andrew Hore both 34, the need to find a young hooker as the All Blacks move towards the next World Cup has seen coach Steve Hansen and co settle on the 26-year-old Coles.
The abrasive Hurricane has played six tests since his debut against Scotland on last season's end of year tour and he started two of the three June tests against France, but Mealamu thinks the starting position is there to be won ahead of the Rugby Championship.
"I think you always go in with the attitude that the jersey's up for grabs,'' the Blues hooker said. "So you can never really say it's yours but you want to just make sure you can compete and put your best effort out there and say `hey, look this is what I've got to give' and you just leave it in the hands of the coaches to see where they want to go with it.''
The All Blacks open the Rugby Championship against Australia in Sydney on Saturday and the home side will be fired up as they embark on their first test under new coach Ewen McKenzie.
As for whether Coles was ready for the intensity of a Bledisloe Cup encounter, Mealamu sat on the fence.
"Watching him play in the first couple of tests this year, I think he's more than capable of stepping up. But I think at the end of the day it just comes down to what the coaches want to do and how they want to attack this game coming up, so we'll just have to wait and see.''
Coles started the first of the All Blacks' practice matches in Lower Hutt on Friday night when a shadow first-string XV - minus any Chiefs players and the injured Ma'a Nonu and Wyatt Crockett - beat Canterbury 19-0.
Coles, Mealamu and Hore all spent time at hooker in the second 40-minute hit-out against Wellington, although injuries meant Mealamu and Hore also played on the flanks.
As the All Blacks look toward this weekend's test against the Wallabies one of the major talking points will be the new scrum laws, which place greater importance on hooking the ball.
"I thought the changes were quite positive,'' Mealamu said. ``For teams that love to scrum it's a good way forward. Obviously it's going to take a bit of time for us to get a bit better at what we are doing but we see it as a real positive.''
The All Blacks played under the new scrum laws during their practice matches against Canterbury and Wellington with mixed results.
Meanwhile, Canterbury midfielder Ryan Crotty has been called in to the All Blacks squad as injury cover after Francis Saili suffered an ankle strain in Friday's practice matches that will leave him on ice for at least a week.
Second-five Ma'a Nonu has also been limited of late due to an ankle issue but Hansen said he expected the 31-year-old to train fully this week and welcomed Crotty into the mix.
"He's got a skillset that we like and he was the next cab off the rank, so, the obvious choice to bring in,'' Hansen said of Crotty.
- APNZ