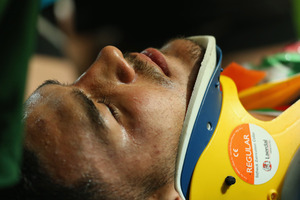 South Sydney coach Michael Maguire says play in their NRL clash with Melbourne shouldn't have continued with his winger Dylan Farrell knocked out on the side of the field.
He said the game had a duty of care to put players first and he will seek clarification this week from the NRL as to why the referees didn't stop the game at AAMI Park.
It continued for several minutes late in the second half while Farrell lay prone in-goal before being attended to.
He was stretchered from the field with his neck in a brace.
Maguire said the young winger was initially in a "bad way" but had pulled up reasonably well post match.
Farrell was chasing a kick and Maguire claimed he was pushed into the knee of his own teammate Andrew Everingham by a Storm player as they went up for the kick.
Maguire said Souths deserved a penalty and said it was another moment in the game that didn't go his side's way.
"Dylan Farrell got taken out of play and he ended up knocked out in-goal and the game played on.
"Most games you see players taken out you tend to get a penalty but all of a sudden we end up at the other end of the field so I'll have to have a chat about that.
"The biggest concern is the duty of care of one of our players who was knocked out and the game played on."
Maguire said any time a player went down in that kind of situation, he must be assessed as quickly as possible.
"You've got to look after your players and so does the game."
-AAP