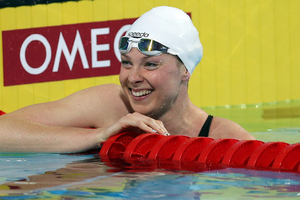 Lauren Boyle has carried her medal-winning form from the world swimming championships to short course racing with victory in the Netherlands.
The 25-year-old won the 800m freestyle on the opening night of the FINA World Cup at Eindhoven and was just a touch away from breaking the world record in the process.
Boyle, the current world champion over the distance, beat off a classy field in a thrilling race, clocking 8:01.22, which is seven seconds faster than her winning time at the world championships last year.
Multi-world champion and last year's short course silver medallist, Lotte Friis set the early pace with Boyle only able to chase down the Danish star for the first time at the 400m mark in a blistering four minutes flat. The New Zealander pushed to a 1.4sec lead at the 600m as Spain's Olympic 800m freestyle silver medallist Mireia Belmonte Garcia emerged as the challenger as Friis faded. The lead came down to 1.1s at the 700m and 0.8s with 50m remaining.
Boyle held on to win by 0.2 seconds from Garcia and only 16/100ths of a second outside Camille Muffatt's world record. Friis held on to third in 8:09.84.
Her time smashed the World Cup championship record of 8:04.61 set by Friis in 2009 and also the Commonwealth record of England's double Olympic champion Rebecca Adlington by seven seconds.
Earlier Boyle had finished seventh in the final of the 200m freestyle in 1:55.17 after breaking her own national record in the heats. She was fifth fastest in qualifying in 1:54.97, which was nearly half a second faster than the New Zealand record she set at December's world championships in Turkey.
Boyle races in the 400m freestyle on the second day of competition, before racing in the second leg of the FINA World Cup in Berlin at the weekend.
Earlier fellow North Shore teammate Shaun Burnett was 12th fastest in heats of the 200m butterfly in a personal best 1:57.03.
Results:
Women 800m freestyle: Lauren Boyle (NZL) 8:01.22, 1 (Commonwealth & NZ Record); Mireia Belmonte Garcia (ESP) 8:01.43, 2; Lotte Friis (DEN) 8:09.84, 3. Women 200m freestyle: Sarah Sjoestroem (SWE) 1:52.26, 1; Katinka Hosszu (HUN) 1:52.32, 2; Emma McKeon (AUS) 1:53.06, 3. Also: Lauren Boyle (NZL) 1:55.17, 7.
Heats: Men 200m butterfly: Chad Le Clos (RSA) 1:52.85, 1; Thomas Shields (USA) 1:53.09, 2; Takeshi Matsuda (JPN) 1:53.42, 3. Also: Shaun Burnett (NZL) 1:57.03, 12.
Women 200m freestyle: Melanie Costa Schmid (ESP) 1:53.26, 1; Katinka Hosszu (HUN) 1:53.76, 2; Famke Heemskerk (NED) 1:53.97, 3. Also: Lauren Boyle (NZL) 1:54.97, 5 (NZ Record).