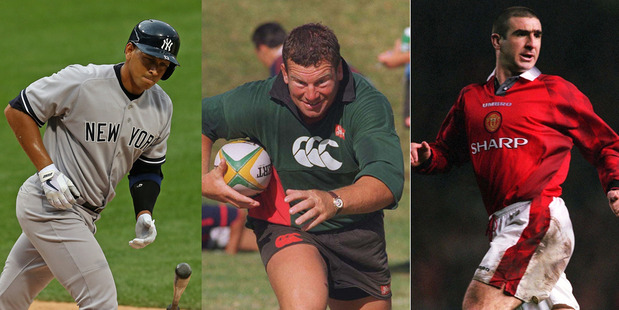 Alex Rodriguez is far from the first athlete to be sent for a spell in the naughty corner, and he certainly won't be the last.
The Yankees slugger was banned for 211 games yesterday for links to performance enhancing drugs, and now shares some esteemed company on the bad boys list.
Nzherald.co.nz counts down five other athletes to be slapped with a lot more than a wet bus ticket.
Pete Rose - Life
'Charlie Hustle' is the all-time hits leader in Major League Baseball, knocking 4256 base hits during a 23-year career. But Rose's exploits as a manager forever tarnished his legacy and left him banned from baseball for life. While many of baseball's best are now finding their path to the Hall of Fame blocked by steroid scandal, Rose chose a different vice to earn the ire of those running the sport. In 1989 while managing his beloved Cincinnati Reds, Rose was handed a lifetime ban by baseball authorities amid allegations he gambled on games while playing and managing.
Rose denied the allegations until 2004, when he admitted to betting on the Reds to win while he was managing the team.
Metta World Peace - 86 games
Long before his moniker reflected a wish for harmony, the basketball player formerly known as Ron Artest was more interested in anarchy. After being hit with a cup thrown from the crowd while playing for the Indiana Pacers against the Detroit Pistons, World Peace did what any rational athlete would - he climbed into the stands and began to fight. His actions sparked the most memorable brawl in NBA history - the Malice at the Palace - and saw World Peace and teammates fighting fans both in their seats and on the floor. Nine players were suspended for a total 146 games, with World Peace's 86 games leading the way and costing him almost $5 million in salary.
Richard Loe - 12 months
1992 was a year of penitence for Richard Loe. He started off the year by elbowing Wallaby winger Paul Carozza in the face during a Bledisloe Cup match in Brisbane. The best was yet to come though when Loe would go on to eye-gouge All Black team mate Greg Cooper during the NPC final.
Loe was banned for 26 weeks and sat out of All Black action for 12 months. It was the heaviest suspension ever imposed on a leading New Zealand player.

Eric Cantona - Eight months
For attacking a spectator with his infamous kung-fu kick during Man United's game against Crystal Palace in January 1995, Cantona was suspended for the remainder of the season and fined two weeks wages.
He was then fined a further £10,000 by the FA, who increased his ban until September, which totalled eight months in all.
Hansie Cronje - Life
In 2000, former national skipper Hansie Cronje was banned for life after admitting receiving money from bookies to help throw matches.
He admitted to the King commission, who were investigating allegations of corruption in cricket, that he had taken around £100,000 in bribes on five separate occasions between 1996 and 2000.
The disgraced Cronje, who tragically died in a plane crash two years later, said he made cash offers to team-mates Herschelle Gibbs and Henry Williams to perform below par.