Investment and the emphasis placed on rugby ahead of education is rife in schools, reports Gregor Paul.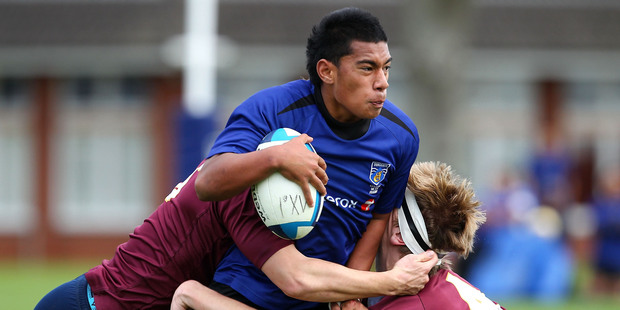 Maybe Auckland's 1A is the best schoolboy competition in the world - it's not like such a claim can be quantified.
It's more accurate to say that it is the most prolific producer of raw rugby talent. There is no city in the world, not even Christchurch and the wider Canterbury area, that has so many breathtakingly athletic and gifted kids on show every Saturday of the winter.
No other schoolboy competition in the world has the same history or prestige; the same number of world famous test stars to claim it as their starting point and foundation stone.
But none of that gives it the right to consider itself the best and more worryingly, in 10 years, probably less, 1A will be stuffed if it continues to develop as it is. The best players will be funnelled into a handful of schools and the divide between the haves and have nots will get to the point where 1A will have 12 teams but only six that can win it.
A generation of players will be pushed out into the world at 18 believing they are going to be professional rugby players. Physically, they will be far ahead of their peers of a decade ago but their breadth of life experience will be staggeringly narrow.
It's apparent, despite the solemn assurances that academia is everything, that there are some boys who have long stopped pretending they are at school for any other reason than to play rugby.
Blues coach John Kirwan has a compelling theory about adversity being at the core of every great player. Where might setbacks befall the current generation of 1A stars at the richer schools? Is it really such a good thing there are only three players in the current champion St Kent's team who have lost a First XV game?
The Herald series into First XV rugby hasn't necessarily uncovered anything those who have been exposed to 1A didn't already know.
Accusations of poaching stretch back, seemingly to the dawn of time - one reader wrote to tell of a scandal of sorts in the 1950s when a few Tongan boys were lured to Auckland Grammar.
First XV has also been a big deal for ever and a day. Auckland Grammar boys of the 1980s say they can remember being coached by the legendary John Graham during the week the school played King's College. The rivalry was fierce and the former All Black would spend time with every team to make it clear what playing the old enemy was all about.
School assemblies on Mondays have always been raucous, almost triumphalist affairs when the First XV wins. Old boy networks have always been in the room - an invisible yet tangible presence, peering over the principal's shoulder at budget meetings.
What the Herald series has highlighted, though, is the intensity of the current state. It has discovered that financial investment, poaching and the emphasis placed on rugby has reached alarming levels.
Feedback has overwhelmingly confirmed that schools can stay in denial but the testimonies of former and current pupils, parents and even teachers that have flooded in, is damning.
Maybe it was no wonder that when the Herald interviewed St Kent's headmaster Steve Cole - one he said he was more than happy to have - he began by saying there would be little or no public interest in the series. "It has been done to death," was his feeling.
When he was asked about the number of rugby scholarships at the school, he said: "Have you asked Auckland Grammar about how many scholarships they have? They are all on scholarships - they are called taxpayer scholarships."
St Kent's is the school that drew the most reader feedback and is the subject of suspicion and ire within the 1A competition. Their incredible success has not been celebrated outside the school and the Herald also heard from several current pupils who haven't found much joy in the 45-game unbeaten streak either. A letter from one of the college's rugby players said: "Our school is way too revolved around rugby. Our First XV players get extra privileges that full paying students don't. Boys on scholarships are treated way more highly compared to us full-payers. We work our way all the way up, then just get an import over the top of us. It's ridiculous really."
There were a minority connected to the school who tried to dismiss the criticism as tall poppy syndrome - suggesting they were the victims of jealousy and small minds. Weeks of research and interviews certainly left the impression schools rugby is a viper's nest of politics - but any objective observer would surely have their doubts about St Kent's methods when the Second XV is so poor and the First XV contains significant numbers of kids on rugby scholarship.
Nigel Hurst, head of rugby at De La Salle College, summed up the current state of the 1A perfectly: "Having been involved in education for more than 30 years, I wonder now whether other people who are hugely influential - such as principals - are putting the interests of themselves and the reputation of their school before the kids," he said.
Poaching - because that is what it is - has reached unprecedented levels. There are a disturbingly high number of boys changing schools at about the time most educators would seriously advise against changing schools. Occasionally there are legitimate reasons - families move and circumstances change. Mostly, though, the driver for the switch is rugby. The schools are stretching credibility and insulting intelligence to say they don't poach. Throughout the last week, the Herald has heard from parents with direct experience of poaching - either their own kids, wider family or friends.
It is happening-and the stricter rules imposed by College Sport mean the poaching is happening in a younger age-group. More than one school coach revealed they are almost reluctant these days to let their boys attend age-grade representative tournaments or camps, because they effectively operate as human bazaars; the big schools are all there, ready to pounce.
Tangaroa College didn't send any boys to a recent Blues under-16 camp for that very reason.
Roller Mills is the big one: this age old tournament brings the best under-13 talent in the country into one place at one time.
Northland Rugby Union high performance manager Peter Nock says his son Sam starred at first-five playing Roller Mills a few years back.
"I then got a phone call from a chap called Neil Ritchie, the administration head at St Kentigern College. He asked if I was Sam's dad."
The school wanted to offer Sam a scholarship - which he took. Kaitaia College wing Shelford Murray is going to have to decide what he'll be doing next year. He recently made the Blues Schools team, played a game in Auckland and hadn't made it back home before two offers had been made by prominent schools for him to do Year 13 with them.
The poaching of kids from Northland - and they are coming to Auckland in their droves - is somehow the acceptable face of this ethically suspect practice. The region lacks strong schools and doesn't have much in the way of effective sporting competition.
The majority of boys who shift south, by all accounts, are enhanced by doing so - most of them really are coming for a better education. But the poaching of kids out of South Auckland feels uncomfortably predatory and exploitative.
There are four public South Auckland schools in the 1A-Papatoetoe High, Tangaroa College, Otahuhu College and De La Salle College. As Mt Albert Grammar First XV coach Geoff Moon says: "Most kids in South Auckland already have access to the 1A competition - they don't need to shift elsewhere to have that opportunity."
This whole idea of selling pupils in South Auckland a 'better education' - that they will have more opportunity in life if they take a scholarship or shift to a higher decile school is entirely questionable. It is an extension of the misconception that lower decile rating means a lower quality education that clearly exists within Auckland.
Most of the kids in South Auckland offered scholarships or opportunities to shift schools are from a Pacific Island or Maori background. According to many teachers, the statistics show that Pacific Island and Maori students at lower decile schools in South Auckland achieve better results than Pacific Island and Maori students at the higher decile schools.
As Dave Syms, the former long serving and much respected principal at Palmerston North Boys' High School and now operations manager at the Auckland Rugby Union, said: "It's paramount that a school's philosophy is weighted towards the classroom. I'd say that is still the case but maybe some schools have the weighting at 51 per cent to 49 per cent."
In a few weeks, the 1A final will be played at Eden Park and for many of the boys, it will be the pinnacle of their rugby careers: a memory to treasure for life.
But the 1A First XV experience is in danger of becoming increasingly hollow. That, though, is unlikely to be the catalyst for change. Too many of the schools have invested too much to scale back now; too man ypeople have become convinced that not only are they not doing anything wrong, they are doing plenty right.
Nor are parents likely to drive cultural change. It doesn't seem to matter that the statistics prove that young men have an miniscule chance of becoming professional rugby players-as long as there is a chance, many parents will encourage their boys to go for it. But sadly, too many seem to be going for it without any provision being made in case they don'tmake it.
It's that culture of dream chasing that is responsible for much of the movement between schools - parents looking for the school that they think will give their boy the best chance.
As one email received on the subject, said: "We have huge involvement with my son's club rugby team with the majority of the boys going to, or trying to get into Sacred Heart. One of the parents was told by the school if her son didn't make it into Bill McLaren [rep team], they wouldn't accept him.
"Lucky for them, he got in and also made the Auckland East under-13s. He will be starting as a Year 9 next year. The mum said he was not very academic, he only has rugby. It's so sad parents can't see that if your kid has potential, it doesn't matter what school your kid will go to."
Actually, come to think of it, 1A really isn't the best schoolboy competition in the world-not now it is in the grips of a culture that thinks winning the wrong way is better than losing the right way.