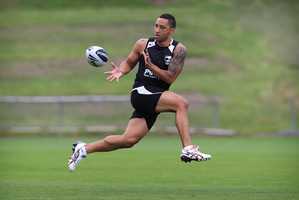 Rugby target Benji Marshall will meet the Blues again today as they try to nut out a deal to introduce him to the Super 15.
Marshall is able to fit in visits to the Blues' facilities as the franchise continues to woo the standoff before his next NRL game for the Tigers against the Titans on Sunday.
The Blues were encouraged by the standoff's response about swapping codes when they met 10 days ago in Sydney to explain their rugby ideas and how they planned their Super 15 campaign. Soon after the Blues sent Marshall an offer.
"He wants to play rugby," Blues coach Sir John Kirwan said at the time. "We spoke about how we do things, what our goals are and what we want to achieve and I think we are in with a shot for sure."
The Blues' proposal involved sporting and career opportunities in New Zealand while it is believed they also touched on ideas about sevens and the Olympics.
Chief executive Andy Dalton and Kirwan had lengthy discussions with Marshall and his manager when they met across the Tasman and they move into the next phase today in Auckland.
Marshall's wife has also travelled over.

When quizzed by the Herald yesterday, the Blues acknowledged the meeting and their intentions but had nothing to add beyond that.

Marshall has not played rugby for more than a decade but played the game as a teenager and if he signs, he could fill utility backline duties for the Blues. An AAP report from Sydney suggested Marshall was keen to round out his league career playing for the Kiwis at the World Cup in October, although he accepted that might be awkward as he would not have a club league deal.
"I am a proud Kiwi and won the last World Cup and would love to do it again," Marshall said..
"I am probably not playing well enough at the moment to get in the team, but if I can find form over the next few games, and the rules permit then, hopefully, I am allowed to play."
The 28-year-old Marshall starred for the Kiwis when they beat the Kangaroos in the last World Cup final in Brisbane in 2008.
He has played nearly 200 games for the Tigers but requested an early release from his contract with the club after a dispute about upgrading his agreement.