Administrator pays tribute to Aussies' 'incredibly fair' attitude to division of venues for competition in 2015.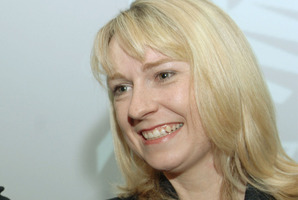 Four months ago Therese Walsh was downplaying the prospect of New Zealand having an equal share in the 2015 Cricket World Cup.
Getting a decent chunk of the blue riband matches would be a battle. Hosting a semifinal? Unlikely.
So yesterday's news on the venues for cup games has delighted New Zealand cricket administrators.
A 50-50 split of pool games, using the same number of venues as Australia, and a semifinal at Eden Park are all reasons to celebrate.
Walsh, who chairs the NZ arm of the World Cup organising committee, admits to a degree she was lowkey on New Zealand's prospects of securing juicy plums back in March, but said the goalposts had also moved significantly in the intervening period.
"I certainly didn't want a strong expectation or be raising people's hopes in terms of a semifinal. Until a couple of weeks ago we didn't have a confirmed match schedule."
A range of hurdles were cleared and Walsh and her team have come up with an outstanding package in terms of New Zealand's involvement in the tournament.
"If you'd asked me 12 or 15 months ago I don't think I'd have imagined this outcome," she said.
"As we got further into the process we got more ardent that if we were going to do this in New Zealand we needed to do it properly."
Rather than focus on hosting a semifinal, Walsh believed the packaging of matches was the key.
"That was the critical thing, what did the whole package look like. It's like a jigsaw puzzle; it has to be right."
Having three games at each of seven venues was initially more important for Australia, she believed, "but the more we worked through it, it became a principle and the mixture of venues worked nicely; it worked on a number of levels."
Quality bids from New Zealand cities were important and Walsh paid tribute to her Australian colleagues on the organising committee for their "incredibly fair" attitude towards their co-hosts "and I think we got the right balance for both countries".
The big question mark remains Christchurch, handed the plum opening clash between New Zealand and Sri Lanka on February 14. It needs approval from the Environment Court before it can proceed with developing a stadium at Hagley Park.
"We have a contingency plan in place if things don't pan out, but we don't want to go into detail on that. Those [three] games belong to Christchurch and that's where we hope they are going to stay."
The Rugby World Cup experience, when Christchurch was knocked out as a host city by the February 2011 earthquake, had been a sharp reminder that "you can't control every outcome", she added.
Canterbury Cricket's chief executive, former New Zealand captain Lee Germon, was ecstatic yesterday.
"It's the best news we've had in a long while in terms of cricket in the city ... we're hugely appreciative."
A decision is expected in the next two or three weeks and organisers have until next August to build the stadium.
Big winners out of yesterday? Nelson's Saxton Oval, which made a strong late surge into the reckoning. The venue is being lined up for a game on either the West Indian or Indian visits next summer.
Any losers? Whangarei did not put in a bid but Queenstown did and missed out. It will have the small consolation of being a host venue during the final qualifying tournament to decide the last two teams in the 14-team event early next year.
Four-time winners Australia are included in pool A with co-hosts New Zealand plus England, Sri Lanka, Bangladesh and two qualifiers.
Pool B contains South Africa, defending champions India, Pakistan, West Indies, Zimbabwe, Ireland and a qualifier. Australia have pool matches in Melbourne, Sydney, Perth, Hobart and Brisbane plus their visit to Eden Park on February 28.
The top four teams in each pool will contest the quarter-finals, the last to be in Wellington on March 21.
Where in the Worlds they'll play
* New Zealand will play Sri Lanka in the tournament opener in Christchurch on February 14, but the three games in the Garden City are subject to Environment Court approval to build a stadium at Hagley Park.
* Eden Park will host one semifinal, reprising its 1992 role, with Sydney hosting the other, and Melbourne will be the venue for the March 29 final.
* The 42 pool games are evenly split between Australia and New Zealand, and each country has seven host venues.
* Reserve days have been included from the quarter-final stage.
* All 14 teams will play at least one game in New Zealand, while the hosts play at six different venues in their pool A matches.