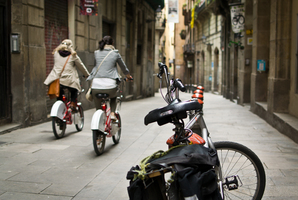 Herald on Sunday sports editor and sailing reporter Paul Lewis with the latest goings-on in San Francisco, the host city of the 34th America's Cup.
From: Paul Lewis
To: Anyone who's interested
Subject: EMAIL FROM SAN FRANCISCO
Problems with the humble bicycle
Veteran Emirates Team NZ crewman Tony Rae flashed past me on his bike. "How's it going?" he said.
Slower than him. San Francisco is a big bicycle town and many America's Cup sailors (as they did in Valencia) have taken to the city's cycleways to get around.
The humble bicycle has become a big commuter option in this city of 800,000 people (though if you count all nine outlying Bay area counties, the population is over 7 million). The figures are astonishing: 71 per cent growth in bikes and bike riders since 2006 - but a 70 per cent increase in bike thefts in the same period.
There were nearly 4100 stolen last year (over 80 a week; a lot for a city of 800,000). The police can't keep up and there is talk of creating a small police bicycle unit and a voluntary registry - only 800 of the 4000 stolen bikes were returned; proof of ownership is a problem.
But an even bigger problem is something that Auckland drivers and responsible cyclists will recognise only too well - the arrogant biker who believes the traffic rules do not apply to him (or her).
Actually, they're mostly hims. I had two close calls with cyclists who ignored red lights and wheeled through pedestrian crossings before reading about 37-year-old Marin County man Chris Bucchere - who sailed through a red light at the busy Castro and Market streets in March and hit 71-year-old Sutchi Hui who was walking with his wife.
Hui died and the case seemed headed for a messy court case. There was no legal precedent for death by bike in California and some felt Bucchere should face manslaughter charges. However, under a plea agreement, Bucchere has just pleaded guilty to felony vehicular manslaughter and will serve 1000 hours of community service; a long way away from the possible six years jail on offer for manslaughter.
A prosecution witness at a preliminary hearing said Bucchere had gone through three other red lights before hitting Hui. However, prosecutors seemed happy justice had been done and the local district attorney said he was satisfied that Bucchere had been made accountable with a felony conviction (thus setting a precedent) but was a first-time offender.
So San Francisco cyclists have been served notice but few, if the guy I saw running red lights in the Embarcadero yesterday is any guide, are taking any notice. It throws up a whole new set of issues: cyclists want bikeways and bike racks (and have got them in San Francisco) but maybe they should be accountably responsible to a set of road rules, just as motorists are.
Paul Lewis, Herald on Sunday sports editor