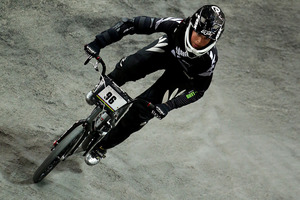 Kiwi BMX rider Sarah Walker has suffered further misfortune ahead of qualifying at the World Championships at Vector Arena.
Walker crashed in practice and was forced to leave Vector Arena for x-rays.
But first, she paid tribute to the fans by rolling around the track in the qualifying motos.
Walker is still nursing a broken arm from a crash five weeks ago but says she hasn't re-injured it.
However, she won't be moving through to this afternoon's elimination rounds.
Walker said earlier she hasn't been able to stop smiling.
"Hopefully my arm holds up in one piece and I can make it through the day.
"And I'll be smiling if I can do that.''
Six Kiwi riders are lined up in qualifying motos this morning.
Marc Willers was the only New Zealander to progress straight through to this afternoon's elimination races.