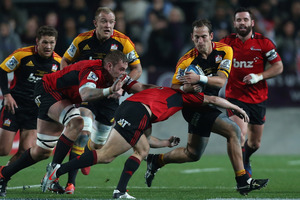 There's going to be ample focus on the coaching teams of the Chiefs and Crusaders over the next few weeks - plenty of ideas floated about what their short and longer term futures look like.
In the case of the Chiefs set-up - Dave Rennie, Tom Coventry, Wayne Smith and Andrew Strawbridge - there is no doubt they have made, and will continue to make a considerable difference.
Since Rennie was pushed to one side by Wellington, he's gone from strength to strength.
He got back into coaching because he wanted to - not because he had to - and that has probably been a major factor in his success. He pulled Manawatu out of the doldrums and gained a lot of success with the new Zealand Under-21 side.
I know some people say that it can be a relatively easy business coaching the age-group team - the players are all young and hungry - but the fact is since Rennie hasn't been at the helm, the team hasn't been as successful.
Whether that's because other nations have caught up or he has some x-factor?
His assistant Tom Coventry did very well with Hawke's Bay and has learned the art of coaching as well and we all know about Wayne Smith. The best example of their influence can be seen in the way they get so much more out of some players than other coaches. Take Hika Elliot as an example - he's not wanted by Hawke's Bay but he goes pretty well for the Chiefs. Ben Tameifuna is another - there were problems with him at provincial rugby and yet he's a different player with the Chiefs.
Even Aaron Cruden you could say plays brilliant rugby with the Chiefs and the influence Rennie and Smith have on him is phenomenal.
As for Todd Blackadder, I think that even before last night's game, you could safely say he would be back as Crusaders coach next year. He said a few weeks back that he didn't feel he was ready for international coaching when there was speculation he was in the frame for the Scotland job.
If he's happy in New Zealand then he may well want to see if he can build his own legacy with the Crusaders - try to win a few titles. It has been hard for him on one level - that he didn't have Richie McCaw this year and probably he won't have Dan Carter next season.
I can see these two respective coaching teams being in their current roles through to 2015 and inevitably talked about as contenders to become All Black coaches at that point.
There are many other factors to consider at that point: much will depend on what the likes of Warren Gatland and Vern Cotter do. Will they want to come home?
Then there is the question of whether Rennie and Blackadder even feel they want to do it. Maybe the next move for them should be offshore.