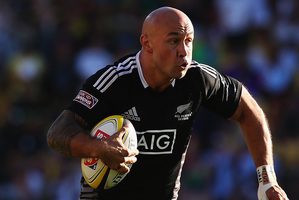 As the Super 15 draws to a close, viewers may have reached their threshold of players declaring "rugby was the winner on the day", "full credit to the opposition" and "giving 110 per cent".
Sean Fitzpatrick's legendary "game of two halves" doozy might have even made the cut.
Finally, the post-match interview has been analysed in depth. Victoria University post-graduate student Kieran File has completed his doctorate thesis on the subject to earn a PhD. He had what might be termed the unique pleasure of poring over about 240 examples from the genre covering rugby, football, tennis and golf. File even compared the interview processes between Oceania broadcasters and those in Europe.
He wants his research to be used for practical purposes and has even set up a consultancy business - Reactive Sports Media - to help sportspeople and interviewers so fans ultimately get a better insight into what has unfolded.
"I'm an English language teacher by trade and I thought it'd be good to develop an understanding of the needs of sport players in the interview situation which can be a foreign concept.
"We don't all have to do it. I want to develop teaching materials and build awareness about what athletes are doing and why."
He didn't complete the research to determine what constitutes a 'good' interview because it was too subjective.
"That's hard to evaluate. The first question you come up against is 'good for who?' A broadcaster might leave a stinging or controversial mark but that's not necessarily good for the player. They could become a YouTube hit or fodder for talkback radio as a result. There are contrasting and conflicting values. Generally a good post-match interview is where both parties look comfortable and players give a detailed insight into the game."
So what were the most repeated cliches? File prefers to call them 'formulaic language'.
"'At the end of the day' was one of the best examples but it still serves a purpose as a summative of what players have been asked to do.
"'Managed to' came up because it tends to soften meaning and make comments less assertive such as, 'I managed to get a try'.
"'The boys' was another interesting one. Obviously it wasn't in the individual sports, but talking about the team can help to avoid praise as an interviewee because you're not necessarily putting yourself in that group. It is a modesty thing. You can't blame sportspeople for that; it is seen as a value in our society."
File found post-match interviews tended to suit individual sportspeople more because they could offer stronger assessments on performance.
"They can say 'I played really well today', whereas team sports typically didn't offer such strong assessments. Players have to filter their thoughts more regarding what the coach and fellow team members might think. If they evaluate too strongly they might get reprimanded."
File says a key difference emerged between Oceania and European rugby interviews.
"Those carrying out interviews in Europe tend to be journalists who seemed more comfortable asking harder questions because it's in line with their professional identity.
"In Oceania there are a lot of ex-players in those roles who bring past experience to the exchanges."
File's thesis provides the evidence. Sixty-four per cent of 'questions' in Oceania rugby interviews tended to be statements (the technical term is declaratives).
That compares to six per cent for their European counterparts.
For example, an interviewer might state, "The scrums and lineouts went well today", rather than ask, "How did the scrums and lineouts go today?"
File believes the technique is mainly used to demonstrate knowledge and a conciliatory style.
"If someone says, 'You must be disappointed to have lost today', it shows more empathy than asking, 'How do you feel?' We all know how they feel, so that might sound insincere. The statement serves the purpose of saying, 'I know what you're going through', which occurs a lot through the Oceania data because of the ex-player factor.
"Interviewers also don't want to annoy players, so a statement can be a safer option. One journalist said you work out pretty quickly how frosty a player is going to be. You're making decisions as you listen. He said if they were tetchy then he'd formulate statements to align with the player such as, 'You must be pleased the scrum worked well but disappointed you didn't get lineout going'.
"It's strategic. If you've got an open player who doesn't mind a difficult question and you know their history, then you might be more direct."
Oceania soccer and rugby also had less than half the open-ended questions (those starting with how, why, what, when, where and who) than their European counterparts.
File says the odd unusual technique was used too. In one European broadcast the interviewer opened the exchange by saying: "Smile!"