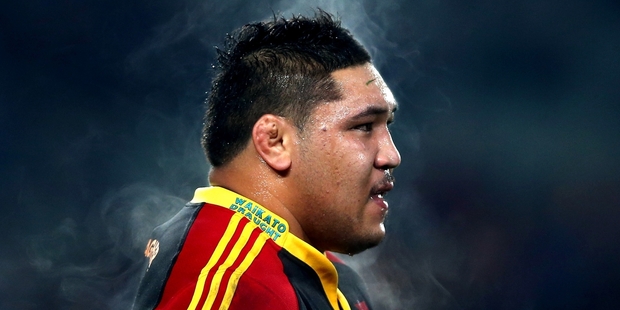 Few players combine the power and dexterity Chiefs prop Ben Tameifuna showed when he barged across for two tries against the Blues.
That recent snapshot of the big prop's brutish strength and deft skill highlighted his rugby value away from the core skills required of a tighthead.
Most of the focus during Tameifuna's brief rugby career seems to have been on his weight. He does cast a large shadow, but his impact is also growing.
When the 21-year-old is tuned into his scrum work he is a difficult rival for any loosehead opponent.
Tameifuna has yet to play a test. He made the initial All Black squad last season but, along with Wyatt Crockett, failed to get any time in that three-test series with Ireland.
He is still without a cap while Crockett is the go-to Crusaders front rower and was the All Blacks loosehead who started in all three recent tests against France.
So it's Wyatt William Vogels Crockett up against Benjamin Vainga Charles Tameifuna tonight at Waikato Stadium - the man mountain against the man-hill. We should send best wishes to referee Steve Walsh and his assistants because you'd pick there will be some drama and contentious penalties.
When Tameifuna is dialled in and anchors the Chiefs' scrum, he gives them a great platform from which to launch their moves. He can also cause havoc for his rivals but those scenarios are all theory until kickoff.
The Chiefs have gone for Tameifuna's bulk ahead of the not inconsiderable size of Ben Afeaki who delivers big numbers around the field where his cleanout, defence and ball-carrying are so effective.
Afeaki weighs 127kg but concedes a fair chunk in size to his younger teammate.
Tameifuna has struggled with some training and off-field issues but has shown recent signs of improved discipline and intentions.
When the squad broke for the June recess, Tameifuna was going to travel to Tonga for a break but some advice from the staff about the coconut cream and taro meant he stayed and trained twice a day instead.
"He has to keep disciplined to get the best out of himself and has been bloody good for us and we are happy he is tracking in the right direction," coach Dave Rennie said.
Tameifuna was so difficult to scrum against because he was such a big man. Teams spent so much time trying to turn props who were 105kg into 120kg men but he was already massive.
"He has got great hands, great footwork, he is incredibly agile for a big man so we want him involved more in the game," Rennie said.
"He is a punishing defender, he can play, he understands the game well and has a great skillset and we want him more involved and the fitter he is the better ..."
Tameifuna has shifted to Waikato from Hawkes Bay for this year's ITM Cup and that concentration on rugby in one city should help his progress.