John Kirwan feels bond forged with league player weighing options.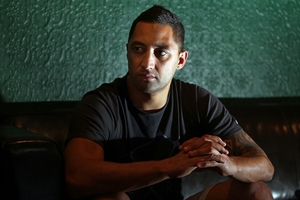 The Blues have been boosted by Benji Marshall's positive reaction about playing Super 15 rugby next season and have made an offer to the Kiwi five-eighth.
Several other groups including the Waratahs are chasing Marshall's signature and he expects to make a decision about his future in the next few weeks.
Blues chief executive Andy Dalton and coach Sir John Kirwan flew to Sydney, where they spent a number of hours with Marshall and his agent Martin Tauber, explaining their rugby vision for the standoff if he returns home.
"It was the first face-to-face meeting we had, he was a really genuine guy and he is ready for a change," said Kirwan. "We are very keen to have him.
"He wants to play rugby. We spoke about how we do things, what our goals are and what we want to achieve and I think we are in with a shot for sure."
The Blues cannot compete financially with offers to stay and play rugby in Australia but the Blues pitched a broad proposal to Marshall about rugby, lifestyle and career opportunities in New Zealand.
They thought he was receptive to their ideas and understood he needed to make a decision which suited him and his family's future. That verdict would be made in the next few weeks as neither party wanted drawn-out discussions.
"For us it is a matter of putting an offer to him and making sure we negotiate properly in the next while," said Kirwan.
There were always some difficulties with any deal but there were always solutions.
"The most exciting thing for me was walking out of the room, thinking he would be a real asset to our franchise and he felt the same. If it doesn't work out from a contract point of view, so be it, but I think he would be a fantastic professional to have in the organisation," Kirwan added. "He is a leader, he knows what he wants, he has great experience, he is a good guy who looks you in the eye and tells you what he is thinking and what he is feeling. I got a good vibe out of it."
The Blues staff spent last week debriefing the players and concluding their season reports before they turned their minds to next year's roster and roles they needed to bolster.
As they did that, the search for a new chief executive continues with murmurs the Blues were looking to trim a large list of applicants to about five contenders. Noises have grown that Breakers boss Richard Clarke is in that frame while mentions were made of Martin Snedden and Iain Abercrombie but both said the timing was not right while former Blues chief executive Peter Scutts is not on the shortlist.
The Blues' player recruitment has not turned up any senior locks to replace captain Ali Williams or Anthony Boric, who are heading to overseas contracts.
"We have our feelers out," said Kirwan "and we are having a broad look all over the place."
The Blues failed to entice Dominic Bird away from the Crusaders last year and he wants to stay while James Broadhurst has also signed on again with the Hurricanes.
Meanwhile, they wait to see whether Brand Benji will cross the Ditch.
"He has a mix of clothing, media and business interests, is an x-factor player and works well on TV programmes. All those ideas could help him in the future.
"We had a go and I am also the type of person who says you really have to want to come here, it is not just about the money and I did not get that impression about him. He has to want to come back home though."