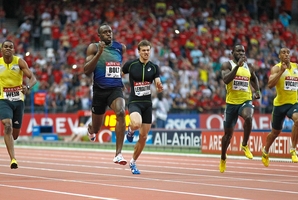 No current athlete transcends sport more - nor has a greater responsibility to perform clean - than Usain Bolt.
Whoever holds the title "fastest 100m sprinter on the planet" always commands revered sporting status. Bolt has extended and enhanced his lease through charisma and an ability to back bravado with performance.
How else could he get away with a statement like "the most naturally gifted athlete the world has ever seen" on a Twitter handle which, at last count, boasted 2,863,147 followers? His only hiccup at a major meet was disqualification from the 100m at the 2011 world championships. His devotees are in a constant state of Usainity; just ask the three Swedish handballers who sought "special accreditation" to party in his room after he won the London Olympics 100m.
Boxer Muhammad Ali or basketballer Michael Jordan must be the best sporting comparisons from the last 50 years. Like them, Bolt is a global household name and has demonstrated similar levels of invincibility and charm.
However, the news key rival Tyson Gay (100m best 9.69s) and former world record-holder and fellow Jamaican Asafa Powell (9.72s) have tested positive to banned drugs has placed an onus on Bolt (9.58s) to keep proving he is the real deal - and clean. Add to that his countrywomen, sprinters Sherone Simpson and Veronica Campbell-Brown, have also tested positive. The microscope is on Jamaica and the country's sprinting figurehead.
Bolt has always tested clean but if it was ever proven otherwise, it'd be the end of the sporting world as we know it. Forget the Ben Johnson and Lance Armstrong scandals, there would be unparalleled fury.
That's why Bolt has to win the world championships 100m and 200m in Moscow. Fans need to know someone continues to wave an honourable flag where a combination of supreme athleticism, fortuitous genetics and hard toil can trump unnatural forces.
The Diamond League in Paris a fortnight ago provided an exercise in observation as to the power and influence Bolt wields. The theme was "superheroes" but only one unmistakable masked face graced the cover of the meet programme.
The crowd built to a crescendo as his 200m appearance neared. Fortunately to balance the tension he appeared a couple of hours beforehand, chauffeured in a green Citroen for a lap of the track.
Bolt sat awkwardly answering a series of underarm lob questions as the vehicle circled the track. The words "former drug cheat Justin Gatlin" weren't part of the transcript. Perhaps that was fair enough. The 50,000 patrons at the Stade de France (most of them Bolt fans judging by the cacophony) were there to hear their champion talk speed and the wonders of Paris, not doping.
Bolt impressed on the track too. After his traditional joshing around in the warm-up and on the start line with a customary lightning bolt pose he was all business setting 19.73s, the fastest 200m time this year.
The Gatlin question, in relation to the disgraced former Olympic champion beating Bolt by 0.01s over 100m last month in Rome, was saved for later. How important does Bolt think it is for the future of track and field's credibility that he beats Gatlin in Moscow at next month's world championships?
Bolt proved he's as good sidestepping as he is running straight or on the bend: "I lost one 100m. People are making a big deal of it but it doesn't bother me. If he's in the lane beside me, I'll get it right. I'm a championship person and as long as I'm in great shape, I'm not worried."
Another test of Bolt's fame came unchoreographed post-meet. He wandered out to the track, presuming the crowd had gone. He was met with a near riot as a group (who looked to be filming some sort of commercial on the pitch) broke ranks and ran towards him.
As security guards held the small crowd at bay, Bolt sheltered behind a flimsy metal railing. Eventually, once the crowd had been placated, the six-time Olympic champion slunk away.
It ain't always easy being Usain Bolt, but so many people have bought into his legend he can't afford to drop his standards - or be lured into temptation. Too much is riding on it.