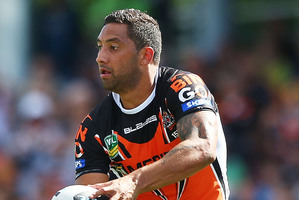 Blues coach Sir John Kirwan and ceo Andy Dalton are flying to Sydney this weekend to talk to Benji Marshall about coming to the franchise.
The two are understood to have a meeting organised tomorrow with the West Tigers player and his manager.
Kirwan has said he is keen to have Marshall, who this week decided to walk away from league and his Tigers club.
Marshall, says a contract ultimatum from the club pushed him out the door of the NRL club.
Marshall said he was given a "stay or go" deadline on Monday.
It had previously been reported that Marshall asked to be released from the remaining two years of his contract after his manager Martin Tauber and Tigers interim chief executive Grant Mayer could not agree to the terms of an upgrade.
But according to the 2005 premiership winner he was forced out after returning on Sunday from a holiday with his wife Zoe in Bali.
"I didn't meet with my manager until about 4pm until Monday and when I did he told me we had a deadline of 7pm to stay or go ... to accept the offer they gave me or walk away," Marshall told the Nine Network.
"I didn't accept the offer and chose what I thought was best for myself and my family."
Marshall again denied he was motivated by money, saying he had turned down a number of big money offers from rival clubs to stay with the Tigers and had even taken a series of pay cuts to ensure the Tigers were able to remain under the salary cap.
"It's not about money. If it was about money I wouldn't even be here [at the Tigers]," he said.
Marshall also revealed that NRL boss David Smith had attempted to keep him in league after he had made the decision to switch codes.
- AAP