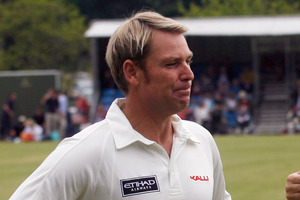 Shane Warne says the alleged feud between Michael Clarke and Shane Watson has been blown way out of proportion.
The champion legspinner said heated debates over where Watson should line up in the batting order had been the main reason for, at times, a frosty relationship between the Australian captain and his former deputy.
But Warne believes sacked Australian coach Mickey Arthur has over-dramatised the pair's rift in court documents related to his compensation claim against Cricket Australia.
Arthur claims Clarke told him that Watson was a "cancer" on the team.
Warne is a friend and former teammate of both Clarke and Watson, and says there's nothing dysfunctional about their working relationship.
"I think what people have missed is they've debated over where Shane Watson should bat. Watto wants to open, Michael Clarke's thinking strong middle order, so I'm sure they've had a few heated debates about where he should bat," said Warne.
"How that translates into 'they hate each other' - it's just been blown out of proportion, I believe.
"And I know both the guys really well and I speak to both all the time. So I think it's not a factual statement.
"But because of ... the way the team's going, sometimes people can read too much into that.
"They might have disagreements of opinions over things, but that's okay. You don't need to always agree and it doesn't equal hating each other either."
Warne said he and former captain Steve Waugh had many run-ins throughout their careers, particularly when the skipper dropped him from a test in the West Indies in 1999.
But Warne said their differences never had an impact on the cricket field, and that would be the same for Clarke and Watson.
"We always had respect for each other. We always had different views - Steve was a very defensive, negative type of person - he was always a match saver. He wouldn't go out there and tear an attack apart. He would just slowly go about it and grind them down," Warne said.
"I was a bit more aggressive ... and was more of a risk taker. Sometimes that works, and that's why we had quite a successful period as captain and vice-captain because we contrasted.
"[Clarke and Watson] have disagreements in the change room on certain things and batting orders and that sort of stuff.
"But that's healthy. You don't want 10 robots in there just going 'yes Michael; whatever you want Michael'.
"The big question is about respect versus being liked. We all like to be liked but it's more important to have respect, if you respect each other."
- AAP