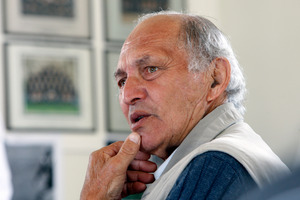 The death of former Maori All Black Laly Haddon has been marked with tributes from the Department of Conservation and Hauraki Gulf Forum due to his significant conservation efforts.
Mr Haddon was an early supporter of New Zealand's first marine reserve at Leigh, served on the Auckland Conservation Board, was chairman and a member of the Hauraki Gulf Forum, and contributed to the local Maori community as Ngati Wai Trust Board chairman.
He received a Queen's Service Medal in 2009 for his services to conservation across the Auckland region over three decades. Mr Haddon died at his Pakiri home at the age of 74.
Department of Conservation (DoC) Auckland Conservator Sean Goddard said Mr Haddon was a conservation leader, a ``mighty totara'' who achieved a great deal for Pakiri, the wider Rodney District, and islands in the Hauraki Gulf Marine Park.
"Laly will be sorely missed. He worked closely with DoC over the years and was instrumental in helping form relationships between DoC and local tangata whenua over the management of Hauturu, Little Barrier Island,'' said Mr Goddard.
"Back in 2009 when awarded his QSM, Laly spoke of being greatly heartened by the involvement of younger people in conservation, including members of his whanau now working for DOC and continuing to protect the whenua.''
Mr Haddon helped with predator trapping to save threatened birds at Pakiri, and ensured conservation staff had access to Maori land to protect nesting birds such as the endangered New Zealand fairy tern and New Zealand dotterel. He also worked with Project Crimson to plant hundreds of pohutukawa in the wider Pakiri area, many of which are now significant specimens along the coastline.
Mr Haddon's funeral will be held at Te Kiri Marae at 11am on Saturday.
Ngati Wai Trust Board chairman Haydn Edmonds said: "Mr Haddon, or Laly as we knew him, made his mark in the tapestry of life and in the history books of Ngatiwai.
"Mr Haddon was a descendant of the great Ngati Wai chief Te Kiri and lived in Pakiri all his life, among the people and environment he loved and served. He was a member of the Ngati Wai Trust Board and its chairman for 16 years from the mid-1990s until March last year. He was also the senior kaumatua and rangatira of the hapu of Manuhiri and Te Kiri Marae.''
Hauraki Gulf Forum chairman and Hauraki District Council mayor John Tregidga acknowledged Mr Haddon's tenure as chairman of the forum, saying he brought mana and momentum to the job.
During his rugby career, Mr Haddon, a loose forward, played for North Auckland, was an All Black trialist in 1966 and represented the NZ Maori from 1965 to 1973.
- APNZ