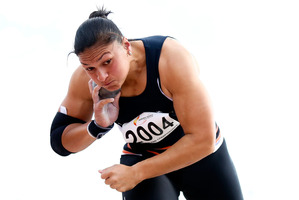 Valerie Adams won her 37th straight shot put competition in the Swiss City of Luzern this morning.

With just over three weeks to the start of the 2013 Moscow World Championships, the double Olympian propelled the 4 kg shot put out to 20.76 metres, and was untroubled in beating the Germany's Christina Schwanitz who could only manage 19.65 metres.

In Moscow, Adams will attempt to win her fourth consecutive world title, having already won at Osaka (2007), Berlin (2009) and Daegu (2011). The Swiss-based Aucklander also won the bronze medal in Helsinki in 2005 and was promoted to second after a historic drug test positive from the championships by Belarusian Nadzeya Ostapchuk.

Adams has one more scheduled competition before Moscow, a Diamond League meeting in London on 27 July.

At the same Luzern meeting, young Hamilton hammer thrower Julia Ratcliffe placed second with a best throw of 64.03 metres. Ratcliffe now returns to Princeton, US to continue her studies.