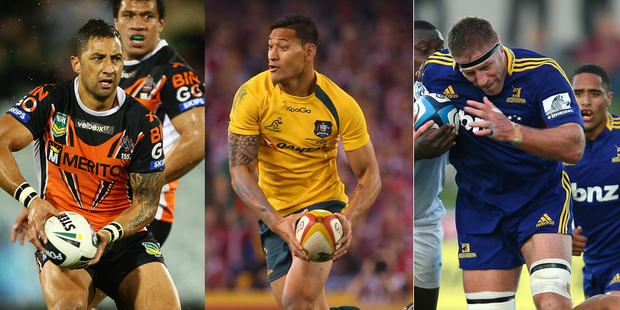 When Benji Marshall announced his desire to leave rugby league this week, he joined a long list of players that harboured an urge to make a code conversion.
The Tigers star has had a tough time of things in the NRL lately, and thinks - as many have before him - that the grass looks greener on the other-side.
Success and failure in the dark-art of code hopping can be a tricky one to predict, but should Marshall recapture the form that has made him one of the top attractions in the NRL over the last 10 years, a union side would be lucky to have him.
Today we look at how seven high-profile rugby league to rugby union converts got on.
Brad Thorn (Broncos to Crusaders)
Thorn is the most successful league to rugby convert of all time. The fact he made the switch twice, is mind-scrambling.
His legacy in both codes is enormous and he collected a final trinket last year that gives him a set of medals no one else is ever likely to match.
After six years and 130 games with the Broncos in the NRL, Thorn signed with the Crusaders for the 2001 Super Rugby competition.
Then after signing for Leinster on a short-term contract last year, he helped them win the Heineken Cup - to add to his Super Rugby title of 2008 and World Cup medal won last year - before returning to play for the Highlanders.
Between 2008 and 2011 - Thorn was one of, if not the best tight lock in world rugby.
But ask anyone in Brisbane about Thorn and they will go misty-eyed and rate him one of the best ever produced by the Broncos - a side that he helped to two NRL Premiership titles.
Sonny-Bill Williams (Bulldogs to Toulon)
Having won an NRL premiership with the Bulldogs in 2004, SBW controversially left his rugby league club halfway through the 2008 season to play rugby union with French club Toulon.
Then in 2010 Williams signed with the NZ Rugby Union and won a Rugby World Cup, Bledisloe Cup and a Super 15 title with the Chiefs.
Not content with being one of the best rugby players on the planet, SBW made the switch again this year, and is currently the Rooster's standout performer in the NRL.
Jason Robinson (Wigan to Sale Sharks)
Jason Robinson wasn't as good at Union as he was at League-he was better.
Robinson made the leap from rugby league, where he made his name as a devastating game-breaker, into rugby union in 2000, and it didn't take him long to make an impact in his new code.
He was no stranger to glory during his career, scoring a try in the final as England lifted the Rugby World Cup in 2003 and helping Sale to the Guinness Premiership title in 2006.
During his rugby league career he had excelled for Wigan as they reigned supreme over the Super League, and represented both Great Britain and England.
Following the 2003 World Cup he briefly captained England while Jonny Wilkinson was out injured, but announced his retirement from international rugby following the 2005 Lions tour to New Zealand, where he won two further Test caps.
He was eventually coaxed out of retirement by England coach Brian Ashton ahead of the 2007 Six Nations, and his added experience helped England to the Rugby World Cup Final in 2007.
His playing career ended for a second time following England loss to South Africa in the showpiece event but he returned to the field for a final time to help the Barbarians defeat South Africa at Twickenham in December 2007.
Israel Folau (Broncos to Greater Western Sydney to Waratahs)
Folau was just 17 years old when he made his debut in the 2007 NRL season for the Melbourne Storm. He went on to break the record for the most tries in a debut year, before signing with the Broncos where he went on to earn Kangaroos and Queensland fame - becoming the youngest player to play for both teams.
Then in 2010 - as his contract with the Broncos was due to expire - a three way bidding war between rugby league, rugby union and Australian Rules broke out, which was eventually won by Great Western Sydney in the AFL estimated to be worth up to 6 million dollars over four years.
After two years and minimal on-field impact with the club Folau announced last year that he was quitting GWS and signed with the Waratahs.
He has since been a standout performer in Super Rugby and was called up by the Wallabies to be their starting winger for their test series with the Lions.
Berrick Barnes (Broncos to Reds)
Barnes made his NRL debut for the Brisbane Broncos as a bleach-blonde haired 18-year old in 2005.
But after just nine NRL appearances Super Rugby came calling, and the promising young league halfback was lost to the Queensland Reds.
Five years later Barnes was named captain of the Wallabies on their 2010 Spring Tour of Europe and has now played over 40 Super Rugby games for both the Reds and the Waratahs, as well representing the Wallabies at two World Cups and racking up over 50 caps.
Wendell Sailor (Broncos to Reds)
Sailor's large frame and bullocking style changed the way wingers played rugby league in the late nineties. But after eight years and 189 games for the Brisbane Broncos, Sailor decided it was time for a change.
Sailor shocked the Australian sports community in 2001 by signing with the Queensland Reds in a deal worth approximately $700,000 a year. He went onto play 47 times for the Reds in Super Rugby, eight times for the Waratahs and 37 times for the Wallabies.
Lote Tuqiri (Broncos to Waratahs)
Tuquri played 99 games for Brisbane and was a key member of the Queensland Origin side before making the shock switch to rugby following his fourth NRL season in 2002.
He was a major part of the Broncos 2000 Grand Final team, which included fellow rugby converts Sailor and Thorn, with the big winger scoring in the 14-6 win over the Roosters. Tuquiri continued to impress with a strong showing in the 2002 Origin series when he amassed 28 points in the drawn series. But a year later he was gone from the game, quickly excelling in rugby and making his Wallabies debut in his first season.
Tuqiri, Sailor and other league convert Mat Rogers all scored for Australia during the 2003 World Cup with Tuquri dotting down for the Wallabies' only try in the final (the other tryscorer was Jason Robinson). He played 67 tests for the Wallabies, scoring 30 times, though All Blacks fans probably most remember him for being hit with a five-week ban following a dangerous tackle on Richie McCaw in 2006.
After eight seasons in rugby he returned to the 13-man game with the West Tigers in 2010 where he has shown glimpses of his former self but gave his best years to union.
- APNZ