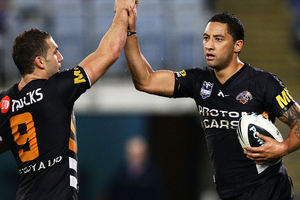 Robbie Farah admits he was fully aware there were issues between Benji Marshall and the Wests Tigers hierarchy, but never expected the Kiwi superstar to walk away from the NRL club.
Marshall dropped a bombshell on Monday evening when he requested an early release from the final two years of his contract at the end of this season.
He's been widely tipped to move to rugby union, with Auckland-based Super Rugby franchise The Blues believed to be in the box seat to secure the 28-year-old's services.
Marshall was hoping to have his contract with the Tigers upgraded to bring him in line with the NRL's top earners, many of who have signed new deals since the increase in the salary cap at the end of last year.
However, the Tigers were reluctant to meet his demands after some indifferent form this year which saw him benched earlier this season by coach Mick Potter and also stripped of the New Zealand captaincy by Kiwi mentor Stephen Kearney.
And after negotiations with his manager Martin Tauber and the Tigers board broke down, Marshall opted to walk away from the club he's served with such distinction for over 10 years.
Farah said he supported Marshall's decision, but was convinced he was going to stay.
"Benji is a very close mate and he has made his decision and I fully support him in whatever he decides," Farah said.
"Unfortunately it won't be at the Tigers. No one is bigger than the footy club ... but it's not the best scenario. I always thought Benji would see out his career playing next to me."
"But obviously there has been a breakdown in communication."
Farah, who'll captain NSW against Queensland in the State of Origin decider on Wednesday, said he was stunned when Marshall rang and told him the news on Monday evening.
"There's a few things that have gone on (at the club) that I am not too sure about," Farah said.
"I came back to the hotel from dinner last night and he'd contacted me.
"He said he wanted to let me know first before it was out in the media.
"We've been through good times together and bad times. But I am shocked, I thought he was going to stay."
The hooker also said if Marshall does move to rugby union it would be a hammer blow for rugby league.
"It's a massive loss for the game, you want your best players playing," Farah said.
"He has done a great deal for the Tigers and rugby league. Kids want to grow up and be players like Benji.
"I have played for more than 10 years with the guy and contrary to public belief I am close mates with Benji."
Tigers chief operating officer Grant Mayer admitted the whole situation sounded "very messy", but said the club had done what it could to keep Marshall at the club.
"We've made a very competitive offer to Benji and his manager and obviously Benji has made a decision to basically ask for a release," Mayer told Triple M on Tuesday.
"I can understand the fans disappointment no doubt ... but we've got to move on. The club is very strong and it's got to continue to grow."
-AAP