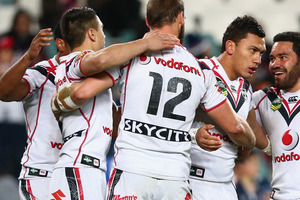 The Warriors have signalled a new direction in their recruitment strategy by announcing today they've signed two elite junior players from England for the club's NYC squad next season.
General manager of football operations Dean Bell said snaring highly-rated 18-year-old Leeds forwards Jordan Baldwinson and Mason Tonks underlined the club's aim to promote and develop young players from not only New Zealand but also other parts of world.
The signings are a direct result of a reconnaissance trip Bell and chief executive Wayne Scurrah made to England recently where they met up with leading player agents.
"We're really excited about signing Jordan and Mason. For us, this is the start of something new and something we see working very well for our club and for the game generally,'' Bell said.
"Jordan has already made his Super League debut this year and Mason is highly regarded as well. While they're only very young they've both got the qualities needed to become NRL players of the future.''
Warriors junior recruitment and pathways coach Stacey Jones, who will coach the club's NYC side next season, welcomed the signings.
"They're two young boys with big reputations and I'm sure they're going to make a real difference to our squad,'' he said.
"We're committed to developing New Zealand players but we're also keen to have the best players in our system wherever they come from.''
Baldwinson, a Hunslet Hawks amateur, has been in the Leeds system since 2007.
He captained the England under-18s against France this year.
"I'm so excited about the opportunity to join the Warriors,'' he said.
"I recently made my Super League debut for Leeds and the club wanted to keep me but I've always admired the NRL. It's such a tough competition and I believe it will make me a better player being exposed to the intense competition week in, week out.''
Castleford-born and raised Tonks joined the Leeds academy in 2011, played for the club's under-20s in 2012 and has been involved with the first team squad this year.
The signings come at a time when the Warriors have established a sister club partnership with Wigan, Bell's long-time club during his playing career and later in a coaching and management role when he returned to England after the 1995 season as the Warriors' foundation captain.
In a reciprocal gesture, Wigan general manager Kris Radlinski was in Auckland to spend time at the Warriors last month.
Warriors assistant coach Ricky Henry is further strengthening the club's relationships in England this week. He flew to the United Kingdom from Perth after the Warriors' clash against South Sydney and has visited Wigan and Warrington rugby league clubs plus Everton and Manchester City football clubs.
- APNZ