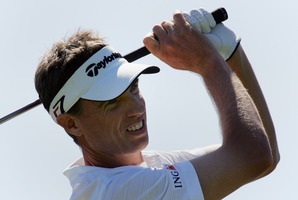 Kiwi golfer Steven Alker's rough year on the Web.com Tour may finally be taking an upward turn as he looks to end a four-year drought without a tournament win.
The Hamilton pro has fired a 10-under 61 in the third round of the Utah Championship at Willow Creek Country Club in Sandy, Utah today to move in to outright first place at 17-under for the tournament before inclement weather struck.
As a storm washed through Sandy, 21 players were left out on the course, including American Chad Collins, who is one stroke back from Alker at 16-under with nine holes to play in his third round.
Collins shot a remarkable 11-under 60 during his second round yesterday and will complete his third round tomorrow (NZT), weather permitting, before the fourth and final round can take place.
There's a gaggle of six golfers tied for third at 15-under with most of them yet to complete their third round.
Alker, whose last notable win came at the New Zealand PGA Championship at Clearwater in 2009, was 149th on the Web.com Tour money list heading in to this weekend's tournament having only banked a paltry US$12,183 (NZD$15,632) from seven starts this year.
He did manage to mix in qualification to the US Open last month though, where he braved the conditions at Merion in Pennsylvania to finish in a respectable tie for 45th.
His bogey-free round today included 10 birdies and shot him 30 places up the leaderboard after he opened with rounds of 71 and 64.
"At the start of the day, I was nine [strokes] back, so I was thinking, `Make as many birdies as I can','' Alker told the Web.com Tour.
"That was the plan. I got going nicely early then coming down the stretch I had the chance for 59. So it was a lot of fun.''
Fellow Kiwi, Tim Wilkinson, is in a share of 17th at 12-under after the Manawatu left-hander carded a five-under par 66 in his third round today, while Danny Lee missed the cut by one shot.
Wilkinson was seventh on the money list heading in to this weekend and has enjoyed a solid return to form this year, while Lee was in eighth and both look likely to keep a spot in the Tour's top 25 players.
The top 25 golfers on this year's Web.com Tour earn direct entry to the PGA Tour in 2014.
Victory would net Alker US$112,500 (NZD$144,350) and likely propel him straight in to the top 25 on the money list.
- APNZ