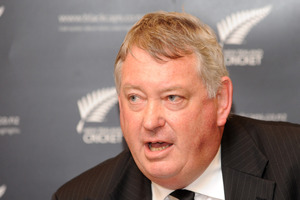 Significant change is coming at board level for New Zealand Cricket.
Chairman Chris Moller and three other board members are resigning and a different system of appointing the board is in place as part of a new constitution, approved at a special general meeting yesterday.
Moller, who has been chairman for the past three years, prominent radio figure Bill Francis, Sir John Hansen and New Zealand's 2015 World Cup organising committee boss Therese Walsh, are not seeking re-election.
The other three, Greg Barclay, Stuart Heal and Don Mackinnon, have signalled they want to remain, but must seek reappointment. The board will come out of recommendations from the appointments panel to NZC's 22 districts and six major assoc-iations. Three of the eventual eight will be up for re-election each year.
That panel is chaired by former international spinner and NZC president Stephen Boock, and includes Sport New Zealand nomination Sir John Wells and chairmen of three of the six major associations - Rex Smith (Auckland), Murray Hughes (Otago) and Lachlan Muldowney (Northern Districts).
The latter three will rotate each year with their counterparts from Canterbury, Wellington and Central Districts.
Another special general meeting on September 19 will usher in the new board, and choose Moller's replacement. Boock believes the constitutional change is overdue, brings a greater transparency and re-engages with the cricket community.
The old system meant individuals had to be nominated by an association. Now anyone is free to put their name forward, without the need for association backing.
Over the years elements of the constitution had been adapted, clauses adjusted, Boock said. But by 2011 it was felt the appointments panel was too far removed from the core of New Zealand cricket.
"We were losing the connection. We weren't getting enough people putting their names forward because of the restrictive process in the constitution," he said.
Boock hopes yesterday's developments will remove much of the clutter. The work took a year and a half - "it wasn't just patching up the old thing, it was starting again" - and he's anticipating, given the clamour from various quarters for more cricket people to be involved in the running of the game, a large degree of interest.
"There's a lot of people out there in cricket who would be outstanding on the board. We've got to hope we get outstanding applicants and I think we will," Boock said.
He's expecting more than 100 applicants. Qualities the panel will look for? Cricket knowledge and experience, people possessing business acumen, good strategic thinkers and understanding of governance.
With the panel having a majority of cricket-centric people, "we are going to get what the members of New Zealand cricket want", Boock added.
Choosing the board
• An appointments panel will recommend who should be on the New Zealand Cricket board.
• That panel of five includes three major association chairmen, who will rotate with the other three association bosses each year.
• Anyone can apply for a place on the eight-person board, which replaces the old system of having to be nominated by a major association.
• Three of the current board members are resigning, along with chairman Chris Moller, effective from September 19, when NZC will meet to endorse the appointments panel recommendations.
• Board members may be paid - they are not at present - depending on approval from NZC members.