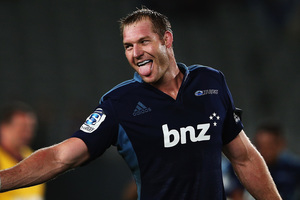 Blues coach Sir John Kirwan is backing Ali Williams decision to sign a one year contract with French club Toulon.
Williams will play his final match for the Blues against the Chiefs on Saturday night, before heading to the European champions in September.
Kirwan told Radio Sport he didn't know Williams had signed on the dotted line, but had chatted to him on the flight home from South Africa.
Kirwan said they spoke about what will be best for him and he's keen to go and have an experience and that would be great for him.
Williams had previously indicated when he retired from test rugby earlier this year that he wanted to stay in Auckland and be the man to lead the Blues to a brighter future over the next few years.
But without being able to pick up test match assembly fees and also having taken a serious pay cut this year, it is likely Williams has been made an offer by Toulon that he simply couldn't refuse.
Toulon currently have Carl Hayman, Chris Masoe, Bakkies Botha, Jonny Wilkinson and Matt Giteau on their books.
Owned by the notoriously volatile and exuberant Mourad Boudjellal, Toulon are renowned as one of the best paying clubs in world rugby.
Hayman reportedly signed a three-year deal worth $1.5 million a season when he committed.
The club released the news late tonight - saying Williams will be replacing former England lock Nick Kennedy, who unexpectedly asked to be released from his contract with the French giant.
- With Newstalk ZB