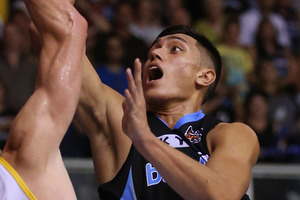 New Zealand basketball is riding something of a high and the Tall Blacks hope that translates to the national side ahead of their upcoming games against China and Australia.
Eight newcomers have been included in an extended 19-man Tall Blacks squad for a two-day trial. This will be trimmed to 12 for the upcoming tour of China and next month's Oceania championships against Australia.
Notable absentees include Kirk Penney, Leon Henry, Isaac Fotu, Tai Webster and Rob Loe. Breakers swingman Tom Abercrombie will miss the trials as he chases an NBA contract but is expected to join the team in China.
Basketball New Zealand hope to have newly drafted NBA prospect Steven Adams attend the Oceania championships, whether as a player or a special guest.
"We understand this is a very exciting and challenging time for Steven in his career,'' BBNZ chief executive Iain Potter said. "But he has expressed his desire to play for the Tall Blacks at some point and I'm sure if he possibly can, we'll see him in action soon.''
There is still considerable experience in the squad in the likes of Mika Vukona, Alex Pledger, Casey Frank, Lindsay Tait and Corey Webster. But there is also a swagger of newcomers with nearly half the 19-man squad yet to play for the Tall Blacks.
Those newbies are guards Brad Anderson, Brooke Ruscoe and Marco Alexander and forwards Jordan Ngatai, Dion Prewster, Jack Salt, Reuben Te Rangi and Thomas Vodanovich and guard Marco Alexander.
Ngatai and Vodanovich are heading to US colleges this year.
New Zealand men's basketball squad to assemble in Auckland on Tuesday: Brad Anderson (Taranaki), BJ Anthony (Otago), Everard Bartlett (Bay Hawks), Josh Bloxham (Nelson), Casey Frank (Wellington), Nick Horvath (Manawatu), Jarrod Kenny (Bay Hawks), Jordan Ngatai (BYU Hawaii), Alex Pledger (Breakers), Dion Prewster (Bay Hawks), Brook Ruscoe (Nelson), Jack Salt (Super City), Lindsay Tait (Wellington), Reuben Te Rangi (Southland), Jeremiah Trueman (Manawatu), Thomas Vodanovich (James Madison University), Mika Vukona (Nelson), Corey Webster (Wellington), Marco Alexander (Waikato).
- APNZ