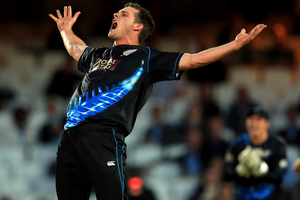 Mitchell McClenaghan hasn't stopped taking wickets since his introduction to the New Zealand limited-overs team.
But his elevation into the test team is no sure thing, according to coach Mike Hesson.
The big Auckland left-armer, currently taking wickets for Lancashire in T20 cricket, is one of six players appearing on the national-contract list of 20 for the first time.
If he continues to make progress at the rate he has since first appearing in South Africa late last year - a remarkable 29 wickets in 10 ODIs at 16 apiece - McClenaghan would seem set to put out a strong challenge in a pleasingly congested seam department.
However Hesson was cool on that, rating it a medium- to long-term prospect.
"It's pretty difficult at the moment with the amount of first-class cricket available to him," Hesson said.
"With the overlapping of forms of the game he's mainly considered in the short form for us because he hasn't played first-class cricket for such a long time.
"We won't be forcing those demands on him too quickly and our test bowling attack [Tim Southee, Trent Boult and Neil Wagner for the past five successive tests, allied by Doug Bracewell in the last test at Headingley] is going so well at the moment it would be pretty hard to force his way in."
The other five first-timers on the list are opener Hamish Rutherford, one-day pair Colin Munro and Corey Anderson, veteran spinner Bruce Martin and wicketkeeper-batsman Tom Latham.
Martin's selection can be justified in part by Hesson's words yesterday, that he and fellow selector Kim Littlejohn took into account "what sides we're likely to pick over the next 12 months in certain forms".
First up is Bangladesh in October, which includes test matches. No Dan Vettori, recovering from his Achilles operation, and no young spinner bursting through, mean Martin must be the leading contender to go to a spin-friendly country.
There are no bolters, no one who hasn't played for New Zealand in at least one form.
Test cricket gets double the value of shorter forms under the selection process.
Veteran opener Peter Fulton, not in the ODI or T20 frame, is a case in point of how the system works.
Whatever the future holds - and Hesson's expecting big things from the man dubbed Two-Metre Peter - he'll always have Eden Park, March 2013, on his CV.
"Whatever formula you have there's always little flaws in it. It's not a perfect science when you've got three forms to consider. But I think it works out pretty well," said Hesson.
"Those players who are viewed as able to play over the three forms certainly have the benefit of gaining points over all three."
Hesson was reluctant to drop names of those unlucky, although James Franklin, Ian Butler and Mark Gillespie got mentions.
Wicketkeeper Luke Ronchi, who had his limited-overs chance in England, didn't quite muster enough points across the three forms, but veteran Grant Elliott did. His bits and pieces contributions, mature head and "calmness" within the group got him across the line.
Hesson knows there will always be debates over selection choices and "some players will be perceived as a little bit fortunate, some a little unlucky when you draw a line in the sand".
Major association contracts are expected to be announced on July 26.
Hesson said he expected to make contact with the controversial batsman Jesse Ryder in the next week to check his progress.
"I hear he's going well, but the key thing is getting his health right and that's always been the priority," Hesson said.