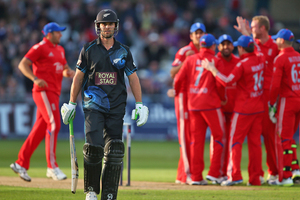 The Herald looks at the big winners and losers from New Zealand Cricket's annual awarding of 20 central contracts.
WINNERS
Corey Anderson
Timing is everything, Anderson is proof positive of that. A smeared 30 off 24 in a rain-affected Champions Trophy match against England at Cardiff was enough to convince selectors he has a rosy 12 months ahead of him. To be blunt, his domestic record suggests Anderson has been perpetually promising and seldom delivering, but let's hope this is an inspired hunch.
Bruce Martin
You can look at this selection two ways: as validation of the heart-warming story of a first-class journeyman who had to wait 13 years before doffing his first test cap, or incontrovertible evidence that New Zealand's spinning stocks, especially with the unavailability of Daniel Vettori, are chronically low. You choose.
Colin Munro
He's played 12 times for New Zealand across the three formats without ever convincing with the bat or his part-time seamers. At 26, he has time on his side and his first-class numbers sparkle enough to suggest he has a lot more to show - but for some that gulf in class is unbridgeable.
Peter Fulton
We should celebrate Fulton's selection for what it is - a big thank you for an astonishing Eden Park test against England where he scored 110 and 136. With that, his test average is 29, without it is 20.5. He's not the future, but at this stage, Hesson could be forgiven for wondering who is.
LOSERS
James Franklin
It doesn't seem that long ago that Franklin was being lauded for his series-winning efforts in South Africa and Hesson was being credited for finally unlocking his talent. Uninspired home-and-away England series ate away his credits and it is difficult to see him winning a spot back... though he has been written off before.
Luke Ronchi
The England one-day series and Champions Trophy taught us two things about Ronchi: he is the best gloveman in the country; and you should not take a middle-order batsman and expect him to be an immediately successful international opener. He has paid for those failings against the new ball, which seems a little unfair.
Young spinners
There are none, clearly, worth a fig leaf in our first-class system, which is a damning indictment on either the quality of the coaching they are receiving or the standard of pitches they are playing on. Without stating the bleeding obvious, it is much easier to win five-day tests with quality spinners than it is without.