Coaches for Reds and Brumbies expected to lay out credentials for top Aussie job in leadup to Bledisloe Cup.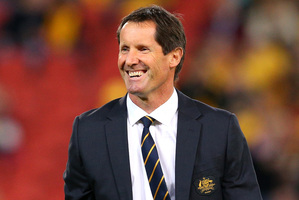 The Wallabies' next battle will be fought in the board room as Ewen McKenzie and Jake White lay out their credentials to coach the side in the opening Bledisloe Cup match.
It is only six weeks until that August 17 clash in Sydney but it is the only reasonable gap in the Wallabies' congested calendar to appoint a new coach to replace Robbie Deans.
If Deans continues through the Rugby Championship and takes the Wallabies into a third clash against the All Blacks at Dunedin on October 19, that is just before the Australians leave for their tour to Europe.
A Tri-Nations title in 2011 is the lone prize in the Wallaby war chest for Deans even though he is the longest-serving leader in Australia's rugby history. That unflattering statistic was compounded on Saturday when the Wallabies collapsed again, 41-16, as the Lions laid into them and claimed their first series win in 16 years.
If Deans had any hope of saving his role it went with that nosedive, tagged on to the regular Bledisloe Cup defeats and the last World Cup semifinal loss also against the All Blacks.
Political forces have ramped up their recent agitation, that after nearly six years as coach, Deans' days are done. His record stands at 74 tests with 43 wins, 2 draws and 29 losses - a 58.1 per cent success rate.
A campaign duel between White and McKenzie will be fought along state lines, experience, xenophobic notions, coaching stats and inter-action to the rugby community in Oz.
Both men have created strong records with their Reds and Brumbies groups. McKenzie's Reds have played with more flavour than White's Brumbies, who have pitched up with low percentage errors and frills to head their Super 15 section.
While both their sides look headed for the playoffs, Deans' Wallabies have wavered in their style and the controversial selection and direction of choices such as James O'Connor at five-eighths.
Losing the Lions series with unflattering displays in the opening two tests before the shellacking in Sydney, added to the Wallabies' three wins and a draw from 18 tests with the All Blacks, are black markers against Deans. Add in the repeat behaviour problems within the group this season, in particular from O'Connor (who has been cut by the Rebels for next year) and Kurtley Beale, and the administrators' patience has been eroded further.
Dean's awkward default demeanor has not grabbed the public interest either in a market where rugby is fourth and fading in the challenging Australian market.
The Lions series pulled in record attendances and pay dirt but there is no other major windfall tour to Australia until the next Lions visit in 12 years' time. The ARU is coming under pressure to change its strategies and revamp its image.
The new men in its hierarchy, chairman Michael Hawker and chief executive Bill Pulver, are under political siege to make a coaching shift and to ice that alteration in the next few weeks.
There must be consequences, the factions are demanding, for the latest Wallaby failure. Pulver would not give any assurances about Deans' future beyond Sydney and the latest limp loss will bring more heat on him to deliver a change.
Deans does not suit up but he is in charge of the Wallabies' preparation and there have been no signs of a lift during the series. They were sloppy in Brisbane, scratchy in Melbourne and sawn off in Sydney.
"You can't sugar coat it, we weren't good enough," skipper James Horwill said. When asked, he bluntly reiterated his support for Deans with an accompanying "now's not the time to discuss this" shrug. It was not even a mild endorsement from a bloke who has prospered further since McKenzie went to the Reds.
Deans agreed the final test disappointment came up well short of what was needed and did not know what it meant for him. "You don't presume anything in this industry, those decisions will be made by others."