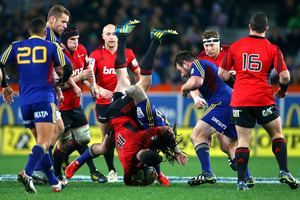 The Highlanders may very well finish the Super 15 with the wooden spoon - but forgive coach Jamie Joseph for feeling rueful about what might have been.
The southern side will end the season with three wins unless they upset the Rebels in Melbourne next weekend, but two of those successes have illustrated why they came into the competition with high hopes.
After eight straight losses to begin the campaign extinguished those, wins over the Blues before the international break, and over the Hurricanes on Saturday night, will leave Joseph in a wistful mood heading into the off-season.
What might get lost in the remarkable 49-44 result at Westpac Stadium was the commanding way the Highlanders took control of proceedings.
Leads of 35-13 and 49-27 were both squandered, but the Highlanders of early this season would have never established such advantages. Colin Slade led some scintillating attacking play and it was reinforced by a solid defence, before ill-discipline helped the Hurricanes back into the game.
The Highlanders' 10-point win over the Blues last month demonstrated what they were capable of, essentially winning the match in the first half hour by racing to a 29-0 lead.
And a similarly intense level of play in Saturday night's opening stanza blew away the Hurricanes, leaving Joseph wondering where that level of performance had been hiding in the first three months of the season.
"It's obviously been a disappointing season for the team," he said.
"But one thing I'm really proud of is that - I took a question prior to the game about where the team finds motivation - when you've got experienced players they have a lot of personal integrity and personal pride, and I think you saw that come out."
Of course, it came too little, too late for the Highlanders' season. Something else on display on Saturday night, and evident throughout the campaign, was a lack of discipline, which looked set to sink a win.
With 22 points of breathing space in the second spell, persistent penalties from the visitors added up and Aaron Smith was sent to the sin bin.
The hosts responded with two tries to leave the Highlanders vulnerable, and that was exacerbated when prop Bronson Murray earned his side's competition-leading ninth yellow card.
"We've got to sort that out, it's been plaguing our whole season," Joseph said. "You saw what happens when you lose a player and have 14 against a strikeforce like the Hurricanes. I don't know how many points they scored but it looked like they were going to come back and beat us."
But the Highlanders held on, sparing their coach further frustration in a season full of it.
- APNZ