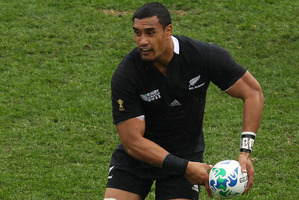 Jerome Kaino has had an offer to come home - but must decide whether he's willing to take an estimated $500,000 pay cut to play for the Blues next year and have a crack at making the All Blacks World Cup squad.
The 30-year-old loose forward has received an offer from the Blues and New Zealand Rugby to return next year. He also has the option of extending his contract with Japanese club Toyota. His deal in Japan is thought to be worth around $800,000 a season while, initially at least, he'll be returning to New Zealand on a package that won't be even half of that.
Kaino, who made the shortlist for IRB World Player of the Year in 2011, is expected to make his decision in the next few weeks. The All Blacks in particular have missed his bruising presence on the blindside and will watch his progress closely should he return.
No one has nailed down the No 6 jersey since he left for Japan last year. Liam Messam has been closest, yet he hasn't brought the same level of intimidation, explosive tackling and ball carrying. Steven Luatua is a similar athlete to Kaino in both size and style - but the young Blues and All Black flanker hasn't yet developed the same impact or muscularity as the 48-test veteran.
Kaino's legacy still looms large within the current All Black camp, with Victor Vito saying ahead of the last test against France: "When you wear the No 6 jersey physicality is taken as a given and I think Jerome set the bar of what is expected before he left."
The unknown for Kaino and the All Blacks is whether he'll be able to play at the same level as before he left. Kaino is reportedly in great shape - back to his fighting weight of 110kg, injury free and relatively fresh from his lighter and less physical load in Japan.
But he turned 30 in April and while that is hardly old, it is old enough to make adjusting to the pace and intensity of Super Rugby challenging.
That uncertainty is reflected in the offer he has been made to return. Kaino was one of the highest earners in New Zealand when he left in 2012 but two seasons away from the game here means he can no longer command the same salary. The New Zealand Rugby Union has been stung by returning players in the past - they paid top dollar to get Luke McAlister back from Sale in 2009 only for him to struggle with injury and form before running out on his North Harbour contract early to take a deal with Toulouse.
The national body is also wary that in the last World Cup cycle it probably over-invested in some senior players. In 2008, they backed a core group - with improved contracts - to be critical All Black components by 2011. They were mostly accurate in their forecasting, but one player in particular, Rodney So'oialo, hit the wall early and was barely holding a Super Rugby place by 2011.
All these factors have been considered in making Kaino a deal - one that will most likely have capacity to be greatly improved should Kaino prove he can still be the world-class player he was before he left.