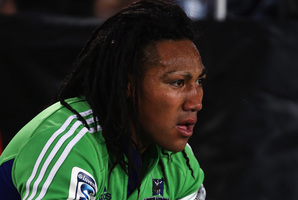 My pick is that Ma'a Nonu will stay with the Highlanders. There's two reasons for that: Jamie Joseph is still prepared to take him on and the other is probably no one else is.
Nonu's burned his bridges at other places-like the Hurricanes and the Blues. I note that Mark Hammett has said he would 'never say never' but I'd be surprised if Hammer wanted to bury the hatchet there. The Blues story, where he shook Sir John Kirwan's hand and then took off to Dunedin has been well documented. At both franchises there were hints of divisions and politics with the team.
I doubt the Chiefs want him, even if they don't get Sonny Bill Williams back next year. Again, never say never but I can't see Dave Rennie wanting to import any problems into a successful team and culture. When Crusaders assistant coach Tabai Matson was asked what he thought of Nonu's spear tackle on Tom Marshall, his body language looked like he'd been asked to swallow a cup of cold sick. I don't think the Crusaders want Nonu either.
There have been some real problems out of the Wellington side Hammett inherited. There seem to have been a few players in that side with a certain mindset and they've been tainted a bit, I'd say.
For example, you'd wonder why Andrew Hore wasn't leading the Highlanders against the Hurricanes last night. It's his old franchise, he's got a point to prove and he's their captain and a senior player. Yet he was on the bench. Why wouldn't you start him? There was no mention of any injuries. You can't tell me it's because he is an impact player.
I mean, he is an impact player but you can't tell me that Liam Coltman is a better player to start against the Hurricanes.
It makes you wonder whether Joseph is worried that, like Nonu, Hore may not finish the game without getting a red card. I can't think of another reason for not starting him. Joseph has also said that Nonu's got a lot of thinking to do - so has Joseph if he's not prepared to start the game with his captain against his old franchise.
There's a third reason why Nonu will stay in Dunedin - they really need him asTamati Ellison is heading overseas (as are Kade Poki and Hosea Gear) and I'd say he is a lot more likely to be a Highlander next year than Benji Marshall is likely to be at first five eighths for the Blues.
For a start, this is all part of a contract negotiation and we all know
what kinds of fiction agents spread in order to get their clients a better deal where they are. I see Marshall has said it's not about the money and that he is deadly serious about a return to rugby, which he hasn't played since he was 16. We'll see.
For my money, the Blues would be a lot better off going for Beauden Barrett, even though he's already turned them down previously - might be different this time with Kirwan on board and Blues players getting in the All Blacks again.
Also, with all due respect to Marshall, Sonny Bill Williams he ain't. If SBW came back to New Zealand rugby, played four ITM Cup games and showed some form, I'd say hell, yes - take him on the end of year tour.
But Marshall? When was the last really scintillating game of rugby league that he played? Twelve or 18 months ago? Any form he has had has been for his beloved Tigers - and my bet is that's the jersey he wants to pull on more than any other. He hasn't been so crash hot for the Kiwis lately, in my view. He's a talented player, no question, but he is also a hot and cold player and more cold than hot lately.
I don't think that's what the Blues need - they need a general who can consistently front for them and steer the side from10, not someone who blows hot and cold all the time. As for those who say he and Shaun Johnson would be great in the Olympic sevens team, I say ... really? Take a look at the likes of DJ Forbes and Tomasi Cama. They are unspectacular players, certainly at fifteens level, and they do not have the showmanship of a Marshall or a Johnson - but they front week-in, week-out in the intensity of sevens; they never make a mistake and they don't fade out; they deliver. I know the sort of player I think Sir Gordon Tietjens will prefer.