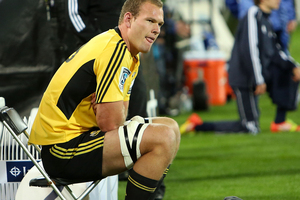 Hurricanes lock James Broadhurst's strong end to the Super Rugby season can be summed up in one word - intent.
The 2.01m second-rower has ousted veteran Jason Eaton from the starting line up during the past two games and it finally looks like the 25-year-old is realising the potential that is attached to his gigantic frame.
Broadhurst spent the first 14 weeks of the Hurricanes' campaign largely limited to cameos from the bench but there's been a difference in his game recently, which has impressed coach Mark Hammett.
"One word that's been floating around with Hammer is intent," Broadhurst explained. "So in everything I do, I just try and have good intent and obviously that includes physicality."
Broadhurst's biggest issue this year has been finding a way to ensure he brings enough intensity throughout his time on the paddock.
Said Hammett: "The best way to explain that is you'll have some players, that every ruck they go in to they want to make sure that the person on the other side doesn't get up again and then you'll have others that will do it 20 or 30 per cent of the time.
So what we are saying is what we want is closer to the guy who doesn't get up each time rather than the other one."
Alongside new All Black Jeremy Thrush, Broadhurst has formed a useful locking combination that is reliable in the air and has a good work rate around the paddock.
Broadhurst, a former national under-19 and under-21 representative out of Gisborne's Campion College, has an array of skills that have impressed Hammett.
"Broady's a very good scrummager. He's an outstanding lineout forward. I think there's no doubt that when Broady's going well with his physical game, his carry in terms of a lock, is second to none out of any lock in New Zealand."
Eaton's demotion from the starting line-up could spell the end of his time in the capital, with a few whispers suggesting he may look to head overseas at the end of the season given he is off contract.
Eaton turns 31 next month and hasn't brought the same mobility and aggressive play this year, which were hallmarks of the former All Black's game during his prime.
Broadhurst is also off contract at the end of the season but has no intention of going anywhere and will ink a new deal shortly.
"I love the Hurricanes and it's a great place to be and there's a really good group of guys and some great coaches," he said.
Broadhurst left Hurricanes training on Thursday with blood streaming from his face following a head clash with fellow lock Mark Reddish but the four stitches he received in his cheek won't stop him from making his third consecutive start for the franchise when they host the Highlanders in Wellington tnight.
Tomorrow's game has little bearing on the competition ladder, although the Highlanders will be desperate to try and move out of last place and add some respectability to what has been a woeful campaign.
The Hurricanes sit 11th in the Super Rugby standings and after tomorrow's clash, they round out their season with a trip to Christchurch next weekend to meet the Crusaders.
- APNZ