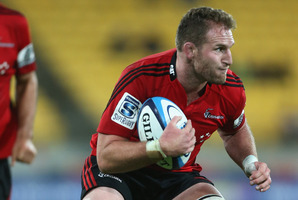 I can only wonder, given the New Zealand team's selections for this round, who is singing off which hymn sheet. The big surprise for me was at the Crusaders where they loaded their bench with All Blacks.
Given the importance of the game, I would have started with Kieran Read, probably Wyatt Crockett and Luke Romano, too. The Crusaders needed the points, needed to keep the pressure on the Chiefs and needed the confidence that comes with a victory. For those reasons, I would have started with the strongest possible side and then looked to have taken off key All Blacks once things were under control.
Especially with Read. There is daylight between him and young Luke Whitelock. The latter is not a bad player at all, but I'd be surprised if he swapped franchises, whether he would be able to hold down a starting place anywhere else. There is that and then also the fact that Read is world class.
Read at 80 per cent would probably be a better option than Whitelock at 100 per cent - that's not meant to be disrespectful, just an assessment of where these two are at in their respective careers.
You can only wonder if some pressure has been applied by the All Black coaches. I'm not talking about a direct request having been made as such, more a case of Steve Hansen reminding Blackadder how much some of the Crusaders boys gave during the June series against France and how much more he expects them to give again during the Rugby Championship.
What doesn't escape my attention is the need for the Crusaders to finish this campaign with a convincing surge. Blackadder's contract expires this year and this is a franchise with high expectations. They have won seven titles, but not once since 2008 and not one under Toddy. On one level you could argue that if Jamie Joseph survives at the Highlanders after the year they have had, then Blackadder absolutely has to as well. But that's not something I would bank on and I would be loading my Crusaders team with the best players to pick up as many points as possible the next few weeks. Yep, I know Wyatt Crockett, Read and Luke Romano have played a lot - and played a lot in the test series - but I think they can be managed at training rather than through game time. I probably wouldn't be counting up their game minutes in July - I'd wait until September-October time before I was worried too much about fatigue having set in.
If you look at how the likes of Conrad Smith, Julian Savea and Beauden Barrett played on Friday night, then you can see there's not always a need to automatically be overly protective of players. Those three were sharp and I thought Aaron Cruden played well, too, and there is no question that Chiefs coach Dave Rennie had his best players on the field for a game he knew his side needed to win.