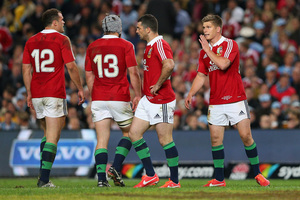 The British and Irish Lions are set to share a jackpot of £2.3 million ($4.6 million) if Warren Gatland's side clinch the series against Australia in Melbourne.
Telegraph Sport understands each player will receive a bonus £12,000, pro rata, which rises to $18,000 if the Lions make a clean sweep of the series 3-0.
Each player who participates in the full tour is guaranteed a basic fee of £50,000. If the Lions win 3-0, the total payout to them will be more than £2.5 million.
The four home unions are to receive £50,000 for each player they provide to the squad, in compensation for them being unavailable for the summer tour, at a cost to the Lions of a further £1.75 million.
The estimated cost of the tour is £14 million, including a seven-figure sum for player insurance, but the Lions board is understood to be hopeful a profit of more than £4 million can be generated through sponsorship (HSBC is the lead sponsor), television rights and ticket sales.
The profit will be shared among the home unions, which should ensure a further seven-figure payout, making this year's tour the most successful in commercial terms since the Lions began touring 125 years ago.