New Zealander Adams faces tall order ahead to become NBA star but it all starts today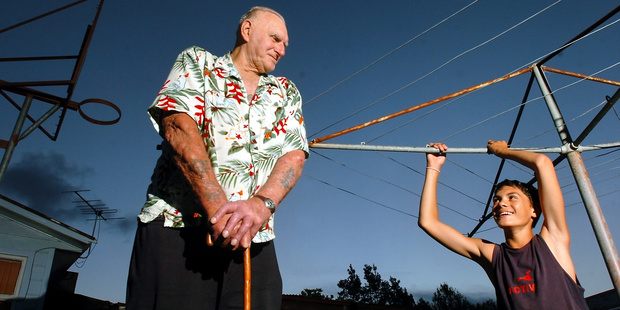 It'll grow on you
But is Steven Adams actually as tall as we're making out? Not according to this report in the august New York Times. Please forgive the imperial measurements.
"When is a 7-footer not 7 feet tall? When he is at the NBA draft combine. This year there are 12 players among the top 100 available who are listed in most places as being at least 7 feet tall. But for many of them, the 7-foot mark comes from shoes and optimism, as only one of them stands 7 feet without the assistance of footwear and rounding to the nearest inch.
"Of the nine tallest players measured at the NBA's combine, the only one listed at more than 7 feet without shoes was Rudy Gobert, a centre from France. He was measured at 7 feet 0.5 inches without shoes and 7 feet 2 with them. Among the other "7-footers" are Nerlens Noel (6-10; 6-11.75 in shoes), Cody Zeller (6-10.75; 7-0.25) and Steven Adams (6-10.75; 7-0).
"The players with the tallest footwear at the combine were Deshaun Thomas, Phil Pressey and Seth Curry; each grew two inches with sneakers on."
Good and bad outlooks for Kiwi
The country's going Adams crazy today, and rightly so. There is no doubt he has talent, but there's plenty of doubt as to whether that talent will transfer to the NBA. Sports Illustrated yesterday had him listed as one of their highest risk / reward scenarios. In the piece, they demonstrated, for Americans, a fairly high comprehension of New Zealand's place in the world.
"Steven Adams, Pittsburgh
"Upside scenario: The offbeat 7-footer discloses he was 'just messing around' last season at Pitt because he thought it would be funny. After a year of pro seasoning, he goes on to become the best New Zealand export since Flight of the Conchords. The All Whites draw Mexico in the World Cup playoff round and win both legs 2-0...
"Downside scenario: Going pro after averaging seven points and six rebounds ends up being a bad idea. After a year in the D-League, he starts considering overseas offers. Flight of the Conchords make a song about him called Giant Stiff. The All Whites draw Mexico in the World Cup playoff round and lose 11-0 on aggregate and then suffer Montezuma's revenge after the leg in Mexico City."
Bit off the pace
Cracking week for Oceania soccer, sorry, football.
After plucky Tahiti proved that a Jilly Cooper novel has more depth than the waterlogged confederation, New Zealand's plucky under-20s proved to be no match for the mighty Uzbekistanis and Uruguayans.
Score so far: Oceania 1 Others 29.
Get on with it, mate
The build-up to Wednesday night's State of Origin II was delayed as Channel Nine was taking live coverage of the Labor Party leadership vote. Crossing to Sky News, a panel member made this pertinent point.
"If the Labor Party don't get this sorted out in the next 10 minutes, they're not going to get a single vote in New South Wales or Queensland."