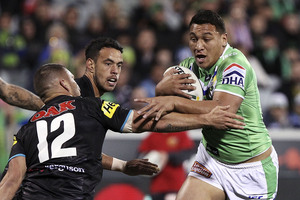 They are not yet a team to resemble the famous Green Machine of the early 1990s but this Canberra side looks more dangerous with every passing week.
They were clinical in their dismantling of a Penrith outfit that has earned new respect over the past two months.
The Raiders can be inconsistent but when they click, watch out. They have a big, mobile pack of forwards, efficient halves and real pace in the backs.
They were fast out of the blocks last night, leading 12-0 after 15 minutes, and though the Panthers stuck to their task, Canberra never looked liked being headed.
The victory means they consolidate their place in the top eight, with winnable games against the Tigers, Cowboys, Eels and Dragons among their next five matches.
The Panthers, after a mini-surge where they won four of five matches, may struggle over the next few weeks as the reality of their modest roster begins to bite. They are an underrated team that work hard for each other but aren't rated as serious playoff contenders.
The Raiders, who were unbeaten in their previous nine matches in the Australian capital, made a dream start. They scored after just three minutes, with maverick centre Blake Ferguson leaping to claim a Terry Campese bomb. Ferguson has always threatened to be one of the best centres in the competition, now he is starting to deliver on that promise. Twelve minutes later Reece Robinson extended his remarkable try-scoring record on home soil. The pacy fullback strolled through a gaping hole for his 16th try in 17 games at Canberra Stadium.
Penrith came back into the game, after hardly figuring in the first 20 minutes. Former Warrior Isaac John, who recently extended his contract by two years, created an opening that led to David Simmons streaking over in the 29th minute.
Canberra regained the initiative late in the first spell, with one of the more bizarre tries of the season just before halftime. Josh McCrone's attempted cut out pass - intended for his centre - flew straight into the forehead of Josh Papalii and bounced forward into the in-goal. It was a 'falcon' that the originator of the term, former Rabbitohs hooker Mario Fenech, would have be proud of, as McCrone then beat the Penrith defenders to the loose ball to score a controversial touchdown. Young prop Paul Vaughan scored his first NRL try in the 56th minute to make it a long climb back for the Panthers, one that would ultimately prove too steep though Simmons grabbed a late consolation.
Raiders 24 (B. Ferguson, R. Robinson, J. McCrone, P. Vaughan tries; J. Crocker 4 goals)
Panthers 12 (D. Simmons 2 tries L. Walsh, M. Moylan goal). Halftime: 18-6