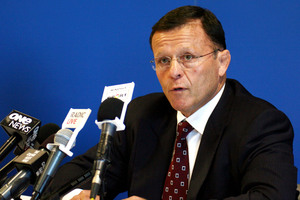 The Blues are looking to add the third part of their new battle plan this season.
They are searching for a franchise chief executive to lead the group from the September start of the upgraded organisation.
This season they have picked new coach John Kirwan and unveiled a private investment partner as part of their strategies to rediscover Super rugby success which has been absent for a decade.
A recent decision to separate the Blues operations from Auckland has created a leadership vacancy at the franchise, with an advertisement seeking applicants in tomorrow's Herald.
The ARU manages shared services with the Blues, chief executive Andy Dalton overseeing both operations.
"Mr Dalton will retain his existing role as the ARU chief executive and will assist in the transition period until the new Blues partnership comes into effect from September 1, 2013," a statement said yesterday.
A new Blues board, chaired by Tony Carter and including investor Murray Bolton, has been appointed with a committee likely to sift an array of candidates seeking the CEO role for the team's 18th season.
Sports administrators with a diverse range of business, marketing and promotion skills are not thick on the ground in New Zealand but ambitious leaders will see the position as a huge challenge.
A preliminary list might include Dalton, the franchise high performance manager, Nick Sheppard, and provincial partner CEOs Brett Hollister and Jeremy Parkinson.
Others with rugby administration pedigree might include David Moffett, Gary Dawson, Peter Goldsmith, Liz Dawson or Mark Robinson.