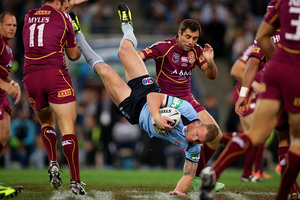 Jarryd Hayne's chances of overcoming a hamstring tear to spearhead New South Wales' hopes of a drought-breaking State of Origin league series win are mar-ginal, according to Blues doctor Nathan Gibbs.
The star fullback, who scored in the Blues' game one victory over Queensland, suffered a grade one hamstring tear playing for Parramatta in their 38-24 loss to the Sydney Roosters on Friday night.
Hayne endured his first physio sessions on the injury yesterday, and made an appearance at Eels training where he walked gingerly but without too much discomfort.
He remains in extreme doubt ahead of Sunday's team announcement, with some concern also surrounding Wests Tigers skipper Robbie Farah's cheekbone injury.
Gibbs, a 30-year veteran of assessing sports injuries, has been in regular contact with the Eels and Tigers medical teams in order to keep Blues coach Laurie Daley informed on their progress.
"The sort of injury he has, he wouldn't be right to play next Monday," Gibbs said. "But he might be ready by the following Monday.
"It will be a lineball injury in terms of recovering for Origin II.
"If he's walking around it's a good sign, especially if he's not on crutches."
Gibbs had more confidence that hooker Farah would be fit.
"It didn't need surgery and it won't stop him training," he added.
"He might be a bit more careful with contact but the majority of training he can still participate in."
- AAP