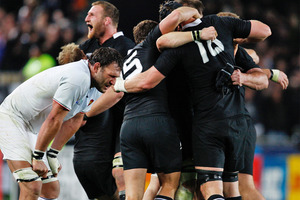 Tomorrow night the All Blacks and France will met for the 52nd time. New Zealand have come out on top on 38 occasions with the unpredictable French winning 12 times.
Despite South Africa and Australia having more victories over the All Blacks, the French have pulled off some of the most painful for New Zealand fans.
Cameron McMillan looks back on five of the most famous matches between the two sides.
2011 - All Blacks 8 France 7
The last meeting between these two sides is arguably the biggest in their 107-year history of fixtures. New Zealand finally claimed a second World Cup title 24 years after beating the French at Eden Park in the first ever World Cup final. Stephen Donald replaced an injured Aaron Cruden, to become New Zealand's fourth number 10 of the tournament, and kicked what ended up being the winning penalty. The match only had two tries but no doubt most New Zealanders regard it as a classic.
Match report
2007 - France 20 All Blacks 18
The grey jerseys, the yellow card, the 'forward pass', the failure to kick a last minute drop goal....none of these things happened. Our records on this World Cup quarterfinal are vague. All they showed was that France won and the All Blacks didn't.
Match report
1999 - France 43 All Blacks 31
Up 24-10 shortly after halftime the All Blacks were set for a third World Cup final appearance and a chance at redemption following the 1995 final defeat. Then 33 unanswered points from the French saw the All Blacks suffer their most stunning defeat since they walked off Thomond Park in 1978. Coach John Hart felt the full brunt of the defeat losing his job as All Black coach after taking an All Black side to the third and fourt playoff for the second time in his career.
Match report
1994 - France 23 All Blacks 20
With France trailing by four points late in the second test at Eden Park they had to chance their hand to avoid a tied series. What occurred was what later dubbed the 'try from the end of the world' as seven French hands touched the ball before Jean-Luc Sadourny dived over for the match winner. The All Blacks haven't lost at Eden Park since.
1979 - France 24 All Blacks 19
The French are emotional at the best of times but playing them on Bastille Day added a bit more to the second test at Eden Park. The French came out on top four tries to two as the Graham Mourie-led All Blacks lost just their fourth ever test to the Tricolours.
- nzherald.co.nz