Dan Carter likely to follow Conrad Smith, Richie McCaw in an extended break from rugby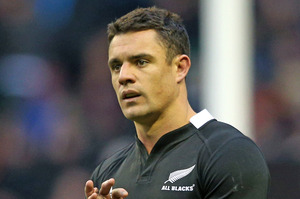 Daniel Carter, having received offers to play in France and Japan in the first half of next year, is likely to reject them all in favour of taking a complete break from the game.
The IRB World Player of the Year is understood to be inclined to follow the lead of All Black captain Richie McCaw and stand down from all rugby in the first half of next year, instead of playing in Japan, as previously thought.
It is probable that Carter will be available to tour Europe in November and then invoke his sabbatical clause to allow him to skip Super Rugby next year.
He remains determined to play a critical role for the All Blacks at the next World Cup, but he'll turn 32 next March and is conscious that he's been troubled by niggling injuries since he ripped his groin in the pool rounds of the World Cup. Only last week he expressed his support for the creation of a global season - arguing that players need longer than six weeks to prepare for the 10-month onslaught of non-stop rugby.
Playing in Japan at the end of this year holds appeal. It would be financially lucrative, the rugby would be fast and aerobic but not particularly physical while it would also provide an opportunity to sample an intriguing part of the world.
But, despite the softer rugby climate, Carter still has to weigh up whether playing in Japan would benefit him more physically and mentally than taking a break from all rugby.
Stories broke earlier this year suggesting he'd already committed to a Japanese deal that would see him play there in December through to February 2014. Toyota was one interested party - offering in excess of $1 million for Carter to play there. He denied those reports, stating categorically that he hadn't signed anything although his agents were in talks with various clubs.
He said then that Japan would be the most likely option should he decide to take a playing sabbatical - but was still undecided whether he would seek to play offshore, take a six-month break from rugby or not activate his sabbatical at all.
"I've experienced Europe for a sabbatical and really enjoyed that," he said. "I loved my time in France and one thing I did realise, even though I only played five games, was how physical the footy was.
"It's the start of a new season. I really want to put my focus on here and now. I've dealt with contracts and things before and it can play on your mind a bit. I just want to start this season well, give everything to the Crusaders, and as the season gets on a bit, then I'll start looking a bit more seriously about what I want to do."
Fellow All Black Conrad Smith confirmed this week that he will be taking a five-month break at the end of this year. He is another who wants to make the 2015 World Cup and feels he won't get there without the time off.
Other older All Blacks are going to be handed sabbaticals of sorts at the end of this year when they are not selected for the tour to Europe.
All Blacks coach Steve Hansen feels some of his ageing warriors could be rejuvenated by an extended pre-season. A six-month break for Carter would allow him to build his core strength and better equip himself to avoid picking up the soft tissue injuries that have affected him in the past year.