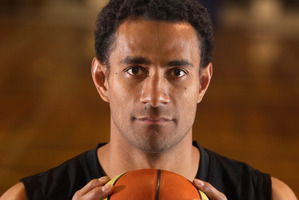 If you're wondering how one of this country's most famous basketball players got started in the sport, look no further than his mother.
Mika Vukona's mum wasn't keen on her boys getting involved in rugby when they were at school, worried they would get hurt.
"I wasn't allowed to play rugby. Mum didn't like it. And you know how it is, you live by mum's rules."
The family was in Tauranga and a couple of schoolboy props had been paralysed in rugby accidents. "Mum got scared quick."
His older brother was playing basketball so Vukona decided to have a go at that instead.
Now, the Fiji-born 31-year-old has clocked up 200 games with the New Zealand Breakers and divides his time between playing for the Nelson Giants in the New Zealand NBL, the New Zealand Breakers in the Australasian competition and is the captain of the Tall Blacks side, which plays internationally.
Yet he has found time to sign up as an ambassador for the Herald on Sunday's Sideline Champs campaign, joining Silver Ferns skipper Casey Kopua, injured All Black Richard Kahui, Warrior Manu Vatuvei and World Cup football star Ivan Vicelich.
Vukona's basketball commitments make for a full-on schedule. Three or four months of the year are spent in Nelson and the rest virtually on the road, with only stops for breath in Auckland. "As soon as the NZNBL is finished, the Tall Blacks are playing. Then, after I finish with international, it's straight into the Breakers."
He has no plans to give it up. Since he was recruited to play for the Nelson Giants in his 7th form year by Nenad Vucnic he hasn't wanted to do anything else. "He said, 'I could make you into a really good basketballer,' so I moved down there."
The Tall Black captaincy is a career highlight and Vukona says he gets a feeling that he's creating something really lasting for the sport when he's a part of big victories, such as the Breakers' 2010/2011 championship win, in which he played in the semifinals against medical advice.
Even the 2007 Nelson victory in the national league ranks among his top accomplishments. "That was really special to them, too."
Vukona was keen to become a Sideline Champs ambassador because he says poor sideline behaviour is a problem that affects all sports.
It's not as prevalent in basketball as it is in rugby, he says, but he regularly sees "passionate" people boiling over - whether that's players or spectators.
International crowds are worse than their New Zealand counterparts, he adds. "Playing for the Breakers, you get heckled a lot. Perth is the hardest city to play in, they get very personal with you there."
Kiwi crowds like to see good sportsmanship, he reckons. "But if you're acting like a prima donna, they let you know pretty quickly."
Vukona says the best way to turn around bad behaviour is to get the kids on side first, and teach them how to behave when they are competing. Hopefully that might then rub off on their parents.
"If kids are practising it at school and told what's wrong, they can then influence their parents. They are the only ones who can do that."