Having called time on test rugby veteran lock enjoying challenge of helping guide young side's rejuvenation as Super rugby power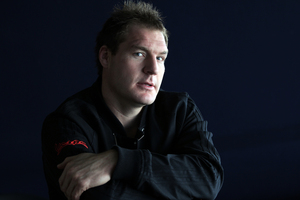 Not much has missed Ali Williams in his lengthy career.
He's been around the rugby block more than most, suffered major injuries, fallouts with coaches, serious form fluctuations and ploughed his way through 77 tests and more than 100 Super rugby matches.
He was tapped by Blues coach John Kirwan to help lead a revival at the franchise and will be the only forward to start every match when he trots out tonight in Dunedin against the Highlanders.
He's had a dozen games at the helm, picking his way through leadership ideas as he bedded into his role. Williams is an emotional bloke who has a zest for life. You figure he would be an excitable and expressive leader. That is his natural inclination but he has worked hard to find a better balance about his stewardship.
"I am enjoying this because it is not something which comes naturally to me," he confided.
Nor does the need to withdraw slightly which has been necessary with the passionate John Kirwan guiding the Blues. "There is no point in both of us going at them and ending up giving them no direction.
"My emotion is about getting the Blues to a better place and that is what I have to do. If I didn't care about that I wouldn't be here. Sometimes you do things that fit for the good of the team.
"It may not be natural but it is necessary."
It's been only a week since Ali Williams shed his All Black cloak, publicly. In that time he can reflect and admit he underestimated the turmoil his decision and explanations would bring.
Then there was the defeat to the Brumbies in awkward conditions at Eden Park. "I was all over the place," he said.
"I did not play too badly, I think I just made the odd mistake which cost us.
"I am comfortable with what I have done and bloody excited to be around this Blues environment and the positive changes you can see now and in the future.
"We can do better. When we attack we are good but it is about stepping up from average to good and learning how to win when that does not happen through natural ability."
During the summer section of the Super 15, players could attack and chuck the ball around but as winter approached, sides had to tighten up or slow down and those traits did not come easily for the Blues.
It was an unremitting process.
Tonight, the exuberant Blues are indoors in Dunedin after a week of training in the Auckland slush. They would need to adapt once more and work on that tactical awareness.
Both sides had endured another tricky week with senior players at the All Black training camp in Mt Maunganui so the winner was likely to be the side who reacted best to those interruptions.
The Blues were not twitchy, they were unaffected by the match stakes.
"Even in a game they make you feel at ease. We have had some hard decisions but we get on with it," said Williams.
"I don't like bossing them every second, I like to harness them and say; "this is what you do and you do it well so you have my confidence and trust to do that.
"Take control, be your own man and we will back that up in the team."
Highlanders v Blues
Dunedin, 7.35 tonight
Highlanders: Ben Smith, Trent Renata, Tamati Ellison, Shaun Treeby, Hosea Gear, Colin Slade, Fumiaki Tanaka, Mose Tuiali'i, John Hardie, Jarrad Hoeata, Josh Bekhuis, Brad Thorn, Ma'afu Fia, Andrew Hore (c), Jamie Mackintosh
Reserves: Liam Coltman, Bronson Murray, Elliot Dixon, TJ Ioane, Aaron Smith, Hayden Parker, Ma'a Nonu.

Blues: Charles Piutau, Frank Halai, Rene Ranger, Francis Saili, Waisake Naholo, Baden Kerr, Piri Weepu, Peter Saili, Luke Braid, Steven Luatua, Ali Williams (c), Anthony Boric, Angus Ta'avao, James Parsons, Tim Perry
Reserves: Keven Mealamu, Sam Prattley, Culum Retallick, Brendon O'Connor, Jamison Gibson-Park, Marty McKenzie, Jackson Willison.