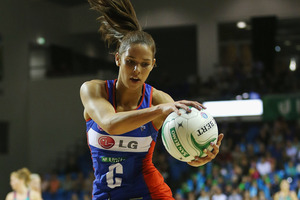 The luckless Northern Mystics have suffered another ugly defeat in Australia, crashing to a 19-goal loss to the NSW Swifts - the team sitting one place above them on the ladder.
While the Mystics have been flat out awful all season, the ninth-placed Swifts have shown real fight - suffering narrow losses to competition heavyweights the Melbourne Vixens and Adelaide Thunderbirds over the past two weeks. The gulf in class between the two bottom-placed teams was exposed today, as the Swifts blitzed their way to a 63-44 win.
The Mystics cause was not helped by two key injuries in the defence end.
With starting defender Jess Moulds unable to make the trip to Sydney due to injury, the Mystics opted to start versatile star Kayla Cullen back at goal keep, pairing up with Australian import Julie Corletto. The new combination did well early on to combat the shorter, more mobile Swifts shooting line-up, but their partnership only lasted one quarter with Corletto limping unable to return to the court after the first break due to knee soreness.
That was just the beginning of the seemingly endless rotation in the Mystics line-up, with all 12 players getting a run during the game as the Auckland side battled to find the right mix to combat the determined Swifts, who have suffered close losses to the Thunderirds and Vixens in recent weeks. The Mystics played out the second half of the match with rookies Jessica Bourke and Malia Paseka in the defensive circle - the latter having been selected in the Auckland team as a shooter.
The young pair came up with some brilliant touches, but ultimately allowed the speedy Swifts shooting line of Susan Pratley and Carla Dziwoki too much space.
But it wasn't defensively where the Mystics struggled the most, as the Auckland side produced another bumbling attacking display. The Mystics committed 30 turnovers - virtually unheard of at this level - with the usually reliable Grace Rasmussen being the worst offender.
Now firmly anchored to the bottom of the table, the Mystics have a bye next weekend to reassess their goals over the final four rounds.