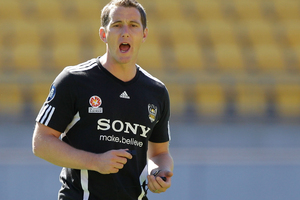 Chris Greenacre impressed incoming Phoenix coach Ernie Merrick during their first meeting and now the former striker will assistant Merrick this season.
Greenacre worked under former coach Ricki Herbert last year and took over the reins when Herbert resigned late in the season.
Merrick said it didn't take him long to make up his mind on the assistant coaching role.
"I was impressed from the moment I met Chris,'' Merrick said.
"He has the attributes and character to be a coach.
"He helps people, has an honest and open personality and good communication skills.
"His experience as a professional player also stands him in good stead, and he has been working hard towards his A coaching licence which he will complete in July.
"For me being a coach is more than just coaching, it is about pulling everyone together and I know Chris will be an important part of that.''
Greenacre said he was pleased the board had faith in him and that Merrick had wanted him to work alongside him.
"I'm delighted with the way it has worked out,'' Greenacre said.
"I had a little taste of the head coaching role at the end of the season and enjoyed it, but I know I am not yet ready for that position.
"Ernie said he wanted me at the club and I feel I can help with the transition.
"I've had a couple of talks with him and like what I heard. He asked my opinion on some things and I really believe he is the right man to take us forward.
"I look forward to working with him and want him to help me become a better coach.''
Phoenix general manager David Dome said the club had wanted to retain Greenacre's services and Merrick, appointed head coach earlier this week, felt the same way.
"The club wants to invest in Chris Greenacre,'' Dome said.
"He has been fantastic for us both as a player and assistant coach.
"When he had to take over the coaching role at short notice last season he stepped up and got some excellent results.
"We see Chris having a long-term future with the Phoenix.''
The Phoenix open their season at Westpac Stadium against the Brisbane Roar on October 13.
- APNZ