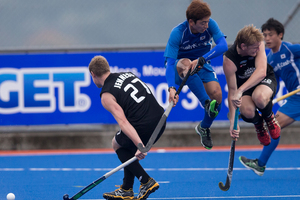 Another one-goal loss, another frustrating night for New Zealand to wrap up their six-test series against Korea in Papatoetoe tonight.
The eighth-ranked Koreans grabbed a late winner from a penalty corner to beat New Zealand 2-1, and they leave with four wins and two draws.
There wasn't much between the teams in the series, but the Koreans were more adept at taking their opportunities.
Both their goals came from penalty corners tonight, by Nam Yong Lee and Hyun Woo Nam, with world No 6 New Zealand's coming from striker Stephen Jenness midway through the second half.
"We're not quite there," said captain for the night, experienced midfielder Shea McAleese.
"We come in and out of the game a little too much and they've been able to dominate too many phases of the game for my liking."
One positive out of the series was that all 23 players got plenty of game time in the final leadup to selection for the World League 3 tournament in Rotterdam next month.
The squad of 18 will be named in the next few days.
"The biggest thing we need to learn is just how to win and what we need to do to win," McAleese said.
"You can't have silly mistakes that cost you goals and at the other end we need to be really clinical in the circle.
"In the middle of the field we're really competitive, but we're letting ourselves down just a little at either end of the field."