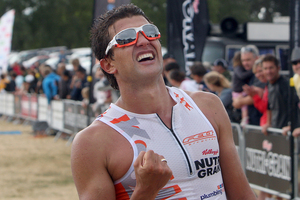 New Zealand triathlete Terenzo Bozzone has put his injury problems behind him with a comeback win in Florida today.
The 28-year-old won Ironman Florida 70.3 in his first race back following a freak accident four months ago. He withdrew from the Auckland Asia Pacific Championships in Auckland in January after a crash while cycle training.
He took three weeks break before his build-up for Ironman New Zealand in early March. During the race Bozzone veered strangely off course on the swim and withdrew early on the bike after feeling dizzy and unwell.
A week later psychometric testing pointed to delayed concussion as a result of the initial bike crash seven weeks earlier, and he was forced to take a complete break for more than a month, returning to racing in Florida today after five weeks back in training.
Bozzone moved to the front after the 90km bike with German Dirk Bockel in Florida, and then was too strong on the run to win by more than a minute in 3:45.51.
During the first of three laps of the run, Bozzone led the way with Bockel just seconds behind, while American Kevin Collington worked his way into contention. Bozzone picked up the pace to open up 48-second lead in the second lap as the American moved passed Bockel.
The Aucklander showed real speed in the final lap to set a new course record.
"I am so excited to be on top of the podium. I'm pumped to get my first race of the season done with a win,'' Bozzone said.
"It was not the usual pancake flat course you expect in Florida with hills on the bike and run. I am really pleased with how the day unfolded and where my fitness is at. I feel that I have strong base to grow on through the season and am looking forward to seeing what the rest of the year has in store.''
He will return to his base in Los Angeles before taking on the ITU Long Distance World Championships in France next month and target the Ironman 70.3 World Championships in Las Vegas in September.
Fellow Auckland athlete Callum Millward finished eighth while another Aucklander, Jo Lawn, finished third in the women's race.
Results, Ironman Florida 70.3:
Elite men: Terenzo Bozzone (NZL) 3:45.51, 1; Kevin Collington (USA) 3:47.12, 2; Dirk Bockel (GER) 3:48, 16, 3. Also: Callum Millward (NZL) 4:01.39, 8.
Elite women: Mary Beth Ellis (USA) 4:14.03, 1; Mandy McLane (USA) 4:19.10, 2; Jo Lawn (NZL) 4:20.51, 3.
- APNZ