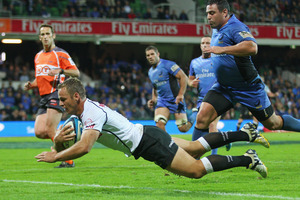 Sharks fullback Riaan Viljoen's 62nd-minute try gave his team a 23-13 win over the Western Force in Perth early yesterday, the Durban-based side's first victory on their four-match Super Rugby road trip.
The Sharks, who had lost five in a row, held the home side to a sole penalty goal in the second half after the Force led 10-7 at halftime.
Sharks first five-eighths Pat Lambie kicked three penalty goals from five attempts and two conversions, including a three-pointer after Viljoen's try that gave the visitors a 10-point margin with 10 minutes remaining.
The Force dominated possession for much of the first half but couldn't finish off their plays with the exception of Kyle Godwin's early try.
Sharks captain Keegan Daniel, who scored his team's opening try, lamented his side's slow start, a season-long problem.
"We were under a lot of pressure this week," he said. "That was guts and effort. We knew we have been strong in the second half of games and that's what happened tonight."
Force captain Matt Hodgson said his side lacked patience, especially after the resumption.
"We got frustrated with ourselves," he said. "We didn't stick to our gameplan in the first 20 minutes of the second half and they made us pay."
Now level for the season with six wins and six losses, the Sharks return to Durban to host the Bulls next Saturday.
The Force have just two wins and a draw in 13 matches; they are in last place in the Australian conference and second-last overall.
Sharks 23 (K. Daniel, R. Viljoen tries; P. Lambie 2 cons, 3 pens), Western Force 13 (K. Godwin try; J. Hayward con, 2 pens). Halftime: 7-10.
• Rebels players are hoping their breakthrough win over the Stormers helps coach Damien Hill keep his job.
The Rebels edged the highly-rated Stormers 30-21, their first win over a South African opponent, hitting the front with six minutes remaining through a controversial penalty try.
Rebels veteran prop Nic Henderson, himself undecided about his playing future, said the players were behind Hill, who has been asked to reapply for his position.
"Everything Hilly does is for the betterment of the team.
"Unfortunately we haven't given him the results he deserves the last couple of weeks so it's a credit to him and the other coaching staff the way that they've handled the team through those narrow losses."
Hill has been in the position for two seasons, and his tenure hasn't been made any easier this season by Wallaby Kurtley Beale being injured and then suspended - keeping him off the field since round three.
Rebels skipper Scott Higginbotham is part of the committee set up to assess the coaching position, which also includes interim chief executive Rob Clarke, the club's foundation coach and World Cup-winning Wallabies coach Rod Macqueen and former ARU high performance boss Brett Robinson.
• The New Zealand women's sevens team are just one win away from winning the inaugural world series title after an unbeaten opening day at the Amsterdam Sevens.
The series leaders won all three pool games at the fourth and final stop on the circuit, setting up a quarter-final against Spain where victory would guarantee the title for the Kiwis.
New Zealand were made to work hard for their first victory, coming from behind to beat Russia 17-5, before earning a 22-0 win over China and a hard-fought 15-0 win against the Netherlands.
- APNZ