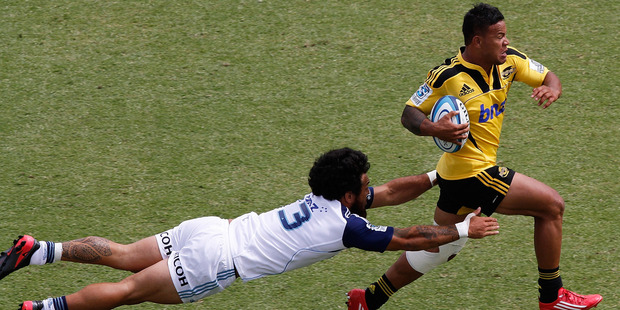 Having committed to Samoa, Alapati Leiua now finds himself as an unwitting test case to see if players who aren't eligible for the All Blacks can get a fair deal in New Zealand.
The powerfully built centre-cum-wing is off contract with the Hurricanes this year and is awaiting to see what sort of offer they will make him to stay. The point of intrigue is what financial package he'll be offered now that he's effectively become a 'foreign' player.
Leiua has been one of the most consistent performers for the Hurricanes this year and would have been selected in the All Black wider training squad. He was a strong candidate to make the final cut when the All Blacks trimmed their squad - which would have inevitably seen him win a test cap against France.
But he rejected the offer and instead will play for Samoa, the country of his birth, in a June quadrangular tournament in South Africa.
In theory, his decision to play for Samoa should make little difference to the salary he's paid by the Hurricanes.
In theory, given how well he has played, Leiua should be offered at least the same, or improved terms to stay.
Yet this was never the way in the days before the direct contracting system was introduced in 2011. Back when the New Zealand Rugby Union had to approve and pay for every player, those who weren't All Black-eligible faced being paid comparatively poorly.
A global superstar such as Rupeni Caucaunibuca was able to command only $75,000 at the Blues. When he signed with Agen in 2004, they agreed to pay him around $600,000 a season. Isa Nacewa was another who couldn't win fair value in New Zealand. Because his eligibility was captured by Fiji, he barely made it into six figures here despite being one of the few class players the Blues could rely on during a dismal period between 2006 and 2009.
The introduction of direct contracting - where each franchise is able to sign players without NZRU approval up to the value of $180,000 - has theoretically paved the way for Leiua to earn what he is worth in New Zealand.
If there is even a minor downward adjustment in his new contract offer it will send out signals that the new system continues penalise those who can't play for the All Blacks. Not only that, it will almost certainly see the Hurricanes lose Leiua who may leave the franchise regardless of what he's offered to stay.
Now that he's not chasing an All Black jersey, his reasons for staying here are less. He'll be able to earn at least double if he takes up an offshore contract in Japan or Europe.