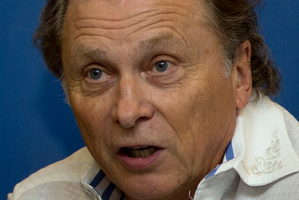 Investors have stumped up $4 million as part of their deal to run the Blues for the next seven years.
They will begin their official work on September 1 but details on their vision, other than to make the Blues the best Super 15 franchise, remain problematic.
Bolton Equities, a private investment company run by Murray Bolton, has a 40 per cent stake and Rugby Holdings Ltd (Auckland 65 per cent, North Harbour 29 per cent and Northland 6 per cent) will hold a 60 per cent share.
"I am not altruistic, I am here because I think this is a business opportunity," Bolton said. "I see this as a long-term commitment, I don't want to stop at seven years.
"Rugby as a professional sport is very much an infant around the world and whatever happens long term in professional rugby, I consider Auckland the capital of the world in terms of rugby.
"The opportunity to get in at the ground floor was something I couldn't let go and I'm here for the long haul."
The NZRU's idea about opening up a share of the Blues was to bring money into the game to reduce pressure on their balance sheet and sharpen their governance skills.
They had earlier granted similar licences to investment groups in the Hurricanes and Crusaders.
The licence to run the Blues includes marketing and managing their on and off-field duties.
The group will retain some gate and sponsorship income and pay for administration costs, extra staff training facilities, and match and marketing costs.
Bolton was in no hurry to alter things at the Blues; he thought the new board would "suck it and see for a while" and he had no plans to mirror any of Gareth Morgan's ownership style.
Bolton had a career in finance and investment and has been chairman of the Auckland Rescue Helicopter Trust for the past decade.
Independent chairman Tony Carter will lead a seven-man board of Bolton, Laurie Margrain, and another Bolton Equities choice, Glenn Wahlstrom, Gary Whetton and John Morgan.
"Auckland rugby is delighted to have led and subsequently brokered a deal that has introduced a new equity partner for a licence to manage the Blues until 2020," ARU chairman Wahlstrom said.
"The opportunity that New Zealand Rugby has given means we have been able to capitalise the Blues to a level that enables us to invest properly in the future, providing a springboard for success both on and off the field."